The Philanthropy Programme - Involving the Next Generation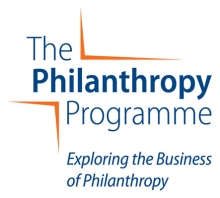 Please note that this event can only be booked through the Philanthropy Programme website. Please follow this link to book.
Advising successful business owners or wealthy families largely means engaging with multiple generations, and more specifically the next generation. Providing a smooth succession between generations, whether the next generation is taking over the entire family business or its philanthropy arm, continues to be an important role of the professional advisor. They should be in a position to advise and guide on that journey.
At this event, we will discuss the variety of roles philanthropy plays in the generational changeover; be it a means to engaging the next generation in the family business; an area where a new owner can demonstrate the change in leadership by altering the philanthropic activities of the business; or perhaps an entire generational shift in beliefs and values resulting in businesses either being structured in such a way that they are more philanthropic, or indeed sometimes sold off altogether with funds being re-purposed into other philanthropic endeavours.
An expert panel will discuss the different methods of involving the next generation in philanthropy and the first steps. They will give an overview of both the opportunities and challenges, helping advisors to navigate and address the issues most important to families involved in this transition.
Topics to be covered include:
Methods and opportunities for involving the next generation in the family's wealth creation and philanthropy
The role of philanthropy as a source to bringing a family together
Advising families on legal issues regarding foundations and planning for transfers to the next generation
The professional advisor's role in managing the transition of wealth across generations
Changing trends in intergenerational wealth transfer and its impact
Trends amongst next generation wealth holders and what they look for from their advisor
Chair: Valerie Remoquillo-Jenni, Senior Advisor, VALUEworks AG.
Panel: Alana Petraske, Special Counsel, Charities and Philanthropy, Withers LLP; Kydd Boyle, Managing Director, Horizons; Mark Woodruff, Director, The Giving Department; Ashling Cashmore, Individual Philanthropy Adviser, BNP Paribas Wealth Management.