Social enterprise
By Alastair Wilson
, Chief Executive, School for Social Entrepreneurs
Highlights
A social entrepreneur identifies and implements practical solutions to social problems through innovation, resourcefulness and persistence.
The European model of social entrepreneurship differs from the US in fundamental ways.
Measurement and evaluation is central to the success of social entrepreneurs.
Philanthropists can play an important role in supporting social entrepreneurs through funding, mentoring, and brokering contacts and networks.
Read more about Social enterprise
What is a social entrepreneur?
In its simplest definition, a social entrepreneur is someone who applies entrepreneurial traits and abilities for social benefit.  It is a new term for something that has existed throughout the ages rather than a new phenomenon itself.  People like Robert Owen, Florence Nightingale and Michael Young fit the term in the past century or so in the UK, but social entrepreneurs were also presumably behind innovations dating much further back, like law courts and schools.
A social entrepreneur identifies and implements practical solutions to social problems through innovation, resourcefulness, persistence and pragmatism. They have a clear understanding of their overall goal and the primacy of their social mission, and combine hard-headedness with idealism, choosing whichever models, governance and revenue streams best help them achieve their vision.
The US model of social entrepreneurship, evidenced by Ashoka, Skoll Foundation, Schwab Foundation and others, tends to focus on the exceptional, heroic individual seeking large-scale, international or nationwide, top-down impact.
The UK/European model is different in three ways:
It does not always emphasise the need for scale;
It supports bottom-up change as well as top-down; and 
It emphasises how social entrepreneurs engage and mobilise communities, teams and movements to achieve change.
Whilst the phenomenon is not new, social entrepreneurship is undoubtedly growing and increasing in relevance with each passing year,  fostered by several trends:
Frustration and disillusionment with the political system's ability to change things;
Rise of the well-being agenda: more people seeking meaning in their work lives, and increasing self-employment;
Charities becoming more business-like, and the growth of corporate social responsibility in business, bringing the worlds closer together;
Hugely networked and mobile society, on and off-line; and
Wide range of options (organisational, governance, income, support) to choose from to help turn ideas into reality.
Social entrepreneurs and social enterprises: what is the difference?
Social enterprises are defined in different ways: by their legal structure (e.g. co-operatives, development trusts, community interest companies, social firms, or trading charities), the social mission and governance embedded in their structure, or their business model (profits from traded income that are reinvested).
Social entrepreneurs do start up social enterprises but, as discussed above, use whatever structures and processes help them achieve their goal: starting registered charities, initiatives in the public sector, and for-profit businesses. Whilst the majority establish themselves in the third sector, they choose from a variety of models and structures; or create their own, operating across sectoral boundaries.
Figure 1:  Social Entrepreneurs' Habitat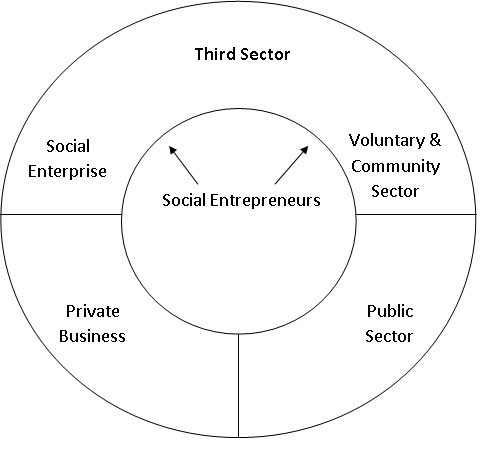 The difference between social entrepreneurship and social enterprise, therefore, is that the former is about the driven individual, whilst the latter is about the organisational form. Social entrepreneurship is about what people do; social enterprise is about (some of the) structures they choose and use to get it done.
A brief history of social entrepreneurship in the UK
Whilst the term 'social entrepreneur' emerged in the 1960s and 70s, it gained more prominence in the 80s and 90s. It was towards the end of the latter decade that Charles Leadbeater wrote the influential pamphlet 'The Rise of the Social Entrepreneur' (for Demos), and this happened almost simultaneously with Michael Young starting the School for Social Entrepreneurs (SSE; in 1997) and the establishment of Community Action Network (CAN) by Adele Blakebrough and Andrew Mawson (in 1998). These two organisations, providing support and networking, were central in promoting and legitimising social entrepreneurship.
Social entrepreneurship has grown enormously since then, with different funds, philanthropists, support agencies and awards schemes emerging. Academic courses, research programmes and events have also been established, most notably the Skoll Centre for Social Entrepreneurship at the Said Business School in Oxford, which hosts the high-profile Skoll World Forum of Social Entrepreneurship. The UK is widely viewed as a leading nation in the field.
The impact of this work is significant: social entrepreneurs are the lifeblood of the third sector – founding, running and populating charities, social enterprises and social businesses. These driven individuals deliver services and goods for social change at local, regional, national and international levels. They create jobs, inspire communities and create social capital and social cohesion.
Case study:  Jacquie Johnston-Lynch, The Brink
Jacquie is a passionate and motivated social entrepreneur.  After her brother was killed by a drunk driver, she decided to tackle addiction issues directly.  After creating a new model for addiction treatment in Liverpool (SHARP) – managed by Action on Addiction, she saw a gap in the market for a city centre venue that doesn't serve alcohol and doesn't attract drug use.  In 2011 she established the Brink, an adult and family oriented social entertainment arena that doesn't serve alcohol, where approximately 75% of the workforce is made up from people in recovery.
The Brink is an innovative health conscious bar, café which has captured the imagination of thousands, promoting abstinence from drugs and alcohol in Liverpool.
Outlook for future development
The trends outlined above (well-being, ethical consumerism, self-employment, political disillusionment, etc) are only increasing, so the growth of social entrepreneurship looks set to continue. Whilst not a panacea for every social issue, social entrepreneurship can play a significant role in creating sustainable social change if combined with access to finance, and tailored support.
Organisational and sector boundaries will continue to blur, and new models and delivery partnerships continue to emerge. To differentiate and distinguish between different initiatives, the following will therefore become crucial:
The quality of the work/activity/product – for example through reputation, measurement, evaluation, or provenance;
How well this is communicated – for example through brand, voice or community and stakeholder engagement; and
The transparency with which the organisation operates – for example through mission, finances, governance or reporting.
Future development for social entrepreneurs will centre around these areas, particularly around measurement and evaluation (social return on investment, social auditing and so on) which remains central to their success.
Next steps: practical information for the philanthropist
The obvious way for philanthropists to get involved is to identify social entrepreneurs working in the areas that interest them, and invest in their work. Though more risky than giving to a larger, more established charity, the potential for tangible impact is also that much greater, as is the excitement from being involved in something at an earlier stage.  Investing in social entrepreneurs in this manner allows philanthropists to work directly with individuals with innovative ideas. 
Alongside funding, support over the long-term is crucial to the social entrepreneur, and philanthropists can play a role in helping put this in place, both directly (through funding support or acting as a mentor) and indirectly (through brokering contacts and networks).
It is recommended to work with and through a specialist broker agency that is supporting social entrepreneurs. In this way, a philanthropist can find people they want to invest in, fund support for them (which means success is more likely), offer non-financial support (for example through acting as a mentor) and decide whether they want to make further investments in the organisation when it is more mature.  This form of non-financial, and indirect financial support can be crucial to a social entrepreneur, and offers the chance for philanthropists to offer backing beyond finance, sharing their business acumen and giving moral support, with the backup of an experienced provider.
Glossary: social enterprise, social entrepreneurship, social business, community interest company
Collapse