Master Your Philanthropy: How to maximize your strategic giving By Nicola Elkins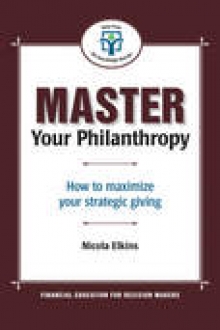 Publishing information:
Winnipeg, Canada: Knowledge Bureau, Sept 2009. 118pp. Softback. ISBN 978-1-897526-30-9. £14.90.
We Brits are well used to being on the receiving end of advice from across the Atlantic Ocean on how to 'do' philanthropy. However, this compact volume is not from our American cousins but their northern neighbours in Canada. This book therefore provides an education in the Canadian perspective on philanthropic issues, as well as being a useful primer for philanthropists in any part of the globe who want to explore some of the important trends in contemporary philanthropy and develop their own plan for undertaking strategic giving.
The book has a very straightforward format and the nine chapters follow a sensible structure for navigating key issues faced by philanthropists. Each chapter begins with a 'real life' scenario of someone facing a philanthropic challenge, which is resolved with advice, tips and solutions in the ensuing pages. The first chapter provides a brief description of the size and shape of the charity sector in Canada, on the basis that the best allocation of philanthropic resources requires an understanding of the overall philanthropic landscape. Later chapters cover a wide gamut of issues including tax planning, aligning personal and family values with a strategic plan, undertaking research and setting achievable objectives, harnessing a family business to pursue philanthropic objectives, and running a grant-making foundation.
A particularly useful chapter lists and discusses the various 'ways to give', noting that there are now many alternative approaches available for philanthropists. Donors can support a charitable organisation directly or set up their own foundation; they can give time and skills by volunteering, as well as (or indeed instead of) giving money; they can establish a new charitable organisation or set up a social enterprise; and they can choose to operate at the cutting edge of 21st century philanthropy by pursuing venture philanthropy, micro-financing and socially responsible investment approaches.
Another important chapter focuses on monitoring and evaluating philanthropic impact, in order to ensure they are "achieving their intended impact" and "making a positive difference". The advice in this section refers back to the groundwork laid in an earlier chapter on 'Selecting your Cause', which counsels donors to review organisations doing work in their chosen area and support those able to demonstrate good financial management and proven effectiveness. Having undertaken due diligence in the selection of beneficiaries, tracking the progress of philanthropic investments should then involve ensuring the recipient organisation continues to manage its finances appropriately and maintains progress toward solving the problem it identified. Refreshingly, this book acknowledges that measuring philanthropic impact is no simple task and that "evaluation can be hard to do", not least because many other external factors can influence outcomes for better and worse. Inadequacies in the evidence base for philanthropic giving mean that 'anecdotal evidence, visits to services and the success stories of users will remain powerful influences on giving'.
A concluding chapter on 'succession planning' argues that robust plans should be put in place for the transition of both wealth and charitable intentions. This book suggests there is a high price to pay for failing to hand on family values and a work ethic alongside large sums of money as, "many children of the wealthy suffer from 'affluenza' – lack of ambition or aspiration brought on by a life of wealth and privilege". The key factors behind successful succession planning are said to involve starting early, especially when larger and more complex philanthropic strategies are in place, and striving to involve all relevant family members: "making the effort to get their input and involving them in the planning process will help to foster commitment and get family members to take responsibility for the honour of philanthropy". Appointing successors to positions on the board of family foundations and arranging for them to spend time having direct experiences with the charitable organisations that are recipients of donations are also recommended strategies, "to ensure your legacy and wishes are not challenged from the grave".
The author, Nicola Elkins, concludes that thinking strategically about philanthropy, taking advantage of tax incentives and learning from other philanthropists and advisors is "the smart thing to do", but that it will also bring greater happiness to an individual's life. Drawing on research into correlations between philanthropy and levels of satisfaction and happiness, she cites: "people who give money to charity are more likely than non-givers to say they are very happy and the more people give, the happier they get… Giving delivers direct psychological and physiological benefits".
At just over 100 pages long, this book cannot provide an in-depth exploration of all the issues, but it is a handy primer for people starting to think seriously about their giving, and provides a readable insight into the current thinking in Canadian philanthropy.