Giving: How each of us can change the world (2007)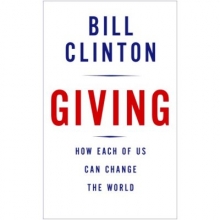 Publishing information:
Bill Clinton Hutchinson, New York. 2007. 240pp. Hardback. ISBN 978-0091795757
It is always good to declare one's biases so I confess that I picked up this book expecting to find it weak on substance and, at best, inadequate. Scathing reviews of the book helpfully provided by people who knew I was reading it - together with sharp recollections that the last book I had read by Bill Clinton, My Life, left me feeling cheated by an autobiography since I learnt surprisingly little about what made the man himself tick - had convinced me that this was going to be a disappointing and glib read.
Let me be clear. This is not a book that appeals to either the professional or the cynic.  Bill Clinton sets out to inspire, educate and yes, I'll say it, demystify 'giving' for a general audience.  He is, therefore, often over simplistic, is unabashedly and enthusiastically a cheer-leader for the individuals and institutions whose causes he trumpets and does not much concern himself with failure, frustration, soul-searching or  lamentations about the complexity of this kind of  work. Often he writes tritely and naively – one egregious example (of which there are alas several):  he is so enthusiastic about Warren Buffett's huge gesture of trust in the Bill and Melinda Gates Foundation that he characterizes the donation as being "without strings" - something, of course, that could not be true of organised philanthropy even if we did not know that Buffett has laid out fairly tough conditions, including the length of time within which his donation has to be spent.  Indeed, throughout Giving, one cannot escape Clinton's determination to say something excessively good about everything and everyone (echoing his autobiography on that score) and that the scale and range of examples makes the somewhat superficial coverage of them inevitable and predictable.
Nor, it must be said (despite a promising title), is this book an 'idiot's' or 'how to' guide; it is simply, as the blurb on the flap says, a "call to action".  I cannot judge how effective it will be in getting people who are currently uninterested in giving to give.  It does, however, provide an encyclopaedic, effective and generous perspective on the whole range of 'giving', and I found that it is an easy read that explains difficult concepts easily. The short (12 pages!) but eclectic list of resources is particularly effective. These are organised by echoing the chapters on Public Good, Giving Money, Giving Time, Giving Things, Giving Skills, Gifts of Reconciliation, Gifts that Keep on Giving, Model Gifts, Organizing Markets, Non-profit Markets and Government.  I was particularly struck by the chapter on Gifts of Reconciliation, the breadth of which encompasses truth and reconciliation in South Africa, teenagers involved in the Israeli-Palestinian peace accord, the unsung role of women in peacemaking, reconciliation efforts in Rwanda and Columbian Peace music. 
Clinton's recognition that the gift of forgiveness is as important as the Buffett gift was a real insight into the man and alone made the book worth reading. I was also struck by the seven page chapter on 'Gifts that keep on Giving' which rather than being about the establishment of foundations in perpetuity (which I confess I expected from the title) turned out to be a refreshing focus on the Heifer International project of giving livestock in the expectation that the animal's offspring will be 'passed on' to others in due course. 
At the outset I had anticipated recommending this book as suited for the general public. But I also think it is ideal for those of us working in this business who sometimes have a hard time explaining what we do and why we do it. In fact I intend to add it to the stockings of my two grown-up children who have, over the course of some thirty years in the development business, heard me dwell too often on the difficulties, frustrations and general inefficiencies of giving, in the hope that some of Clinton's enthusiasm and determination to be positive rubs off.  In the end, I discovered that I had the satisfaction of learning more about Clinton from having read this book, where he was talking primarily about others, than from reading his autobiography, where he promised to talk about himself.
Gerry Salole is Chief Executive of the European Foundation Centre.
 
Gerry Salole