The Billionaire who Wasn't: How Chuck Feeney secretly made and gave away a fortune (2007)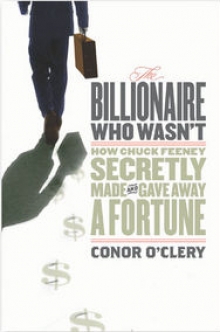 Publishing information:
Conor O'Clery London: Perseus, September 2007. 338pp. Hardback. ISBN 978-1-58648-391-3
Biographies of philanthropists generally tend to fall into one of two categories. The dullest, and unfortunately the most common, are those that are more hagiography than biography, in which the author's admiration for the subject obstructs their ability to give a balanced account of the donor's life and giving experiences. Similarly disappointing are those in the second category, the biographer-come-armchair psychiatrists, who focus on unearthing the subject's motives – usually involving unhappy childhoods or business reputations in need of rescue – that are unsatisfying because they are ultimately unprovable.
O'Clery's achievement lies not only in securing access to the world's most enigmatic philanthropist, but also in avoiding both these biographical blind alleys. If his compelling narrative becomes a blue-print for future efforts to record the life stories of philanthropists, then the reading public might become far more aware of the major donors who have existed in their midst.
O'Clery's account of how Charles 'Chuck' Feeney rose from a blue-collar New Jersey neighbourhood to immense riches as founder of global retail enterprise, Duty Free Shoppers, and then gave almost every cent away, reads like a cross between a whodunnit and an airport business guru book. The opening prologue teases the reader with an account of an unnamed, middle-aged man, "unremarkable but for his penetrating blue eyes" arriving in the Bahamas with his wife, "to conclude a deal unlike any he had made before, one that would change his life irrevocably". Yet this atmospheric account of the day Feeney divested his immense wealth into the Atlantic Philanthropies charitable foundation is followed by an exhaustive account of how that fortune was made, serving as a master-class in business deal-making and ball-breaking.
The two halves are not incompatible – the slightly breathless account of the setting up and running of a secretive philanthropic behemoth is complemented by the earthy machinations involved in selling discounted liquor and other knick-knacks to travellers who've failed to pick up gifts before checking in for their flight home. Indeed, a major attraction of this story lies in the contrast between the stubborn business operator, whose professional relationships are often injured by his recalcitrant retailing genius, and the affable donor, who retains many childhood friends and develops strong personal bonds with Irish academics, Vietnamese doctors, former sporting heroes and other recipients of his money.
The purpose of this book is to inspire emulation. Feeney has revealed the hitherto concealed workings of his global philanthropic endeavours in order to encourage other rich people to put their wealth to good use whilst they are still alive. However, the ability to replicate this scenario is somewhat undermined by both the singular context of Feeney's character and wealth-creating ability and the extraordinary cast of characters that surround him. Foremost amongst these is Feeney's lawyer, Harvey Dale, whose personal stance on secrecy seems to have prevented the billionaire-who-wasn't from enjoying the recognition of being the philanthropist-who-very-much-was.
Now that Feeney is out of the philanthropic closet, it is to be hoped that he enjoys his shift from the global Rich List to the Altruistic A-List, and that he is successful in inspiring others to tread a similar path.