Family Philanthropy Navigator, Lausanne, 2020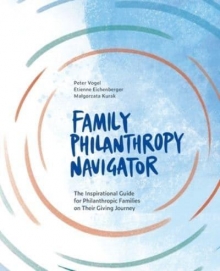 By:
Peter Vogel, Etienne Eichenberger, Malgorzata Kurak
Philanthropy is an important and highly rewarding way for individuals and families to make a difference in a rapidly changing world. Like the world around us, philanthropy is changing and transforming, and philanthropic families are seeking out new ways to ensure that their giving is meaningful and impactful.
The Family Philanthropy Navigator offers an easy-to-use, step-by-step inspirational guide for new and existing philanthropic families to initiate or enhance their journey in giving. It is a hand-on guide for novice and experienced philanthropists and their families. It enables families to get together to answer the core questions at the heart of any voyage in giving: Why? What? Who and How?
Reviews:
Alexis du Roy de Blicquy, CEO of the Family Business Network (FBN): "This is much more than a book: it is a practical and user-friendly tool – a Must for all family philanthropists! The Navigator will guide you step-by-step in your philanthropic journey, helping you to be more strategic, more impactful and to bring along other family members in a playful way, for the love of humanity."
André Hoffmann, Vice-chairman of Roche Holding and President of the MAVA foundation: "Business family owners have engaged in philanthropy with great enthusiasm and commitment over the years. Now, thanks to this timely book, they can count on a great tool to systematically and effectively respond to a growing need of non-profit support in society. This book is a practical and easy to use guide based on robust research which will allow you to gain the confidence you need to thoughtfully contribute to making the world a better place."
Nick Tedesco, President & CEO at the National Center for Family Philanthropy: "The family philanthropy journey can be daunting, but it doesn't have to be. The Family Philanthropy Navigator and its fun, hands-on activities provide practical tools any family can apply to their philanthropy effort".
 
More information available here 
Discover the initial 20 pages of the book here  or watch the following video 
Order a copy of this book here