What can we learn from award-winning philanthropy?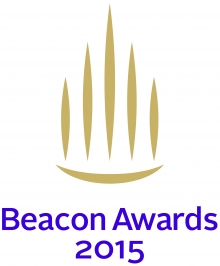 You have met one philanthropist, you have met one philanthropist – or so the maxim goes.
However the 17 winners of the 2015 Beacon Awards, which shine a light on inspiring and impactful philanthropy by UK givers, display a number of common traits.
They show that achieving impactful philanthropy takes time and a lot of research. It takes tenacity, vision, imagination, innovation, focus, a certain amount of risk and the ability to marshal and lead people to become fully engaged in their philanthropic throng.
The 2015 cohort of Beacon Award winners are realising their ideas on a grand scale; their philanthropy is touching millions of lives at home and abroad and goes far beyond the £300m they have collectively given.
The point of the Beacon Awards run by UK Community Foundations with support from J.P. Morgan, The Pears Foundation and City Bridge Trust, is to inspire and educate others. These award winners will join a fellowship of past winners who will be sharing their stories and understanding at events in the months to come.
So what advice would this year's winners give to others wanting to achieve philanthropic missions? We put that question to them and here is a selection of their answers:
Retired international and Liverpool number 23 Jamie Carragher is a role model to young people and fellow footballers. With money from his testimonial game in 2009 he created the 23 Foundation through the Community Foundation for Merseyside which has now reached its £1m target. The 23 Foundation provides grants and support to young people in local communities, encouraging the youth of Merseyside to actively reach for their dreams by following their sporting interests.
Carragher's advice is to take advice: "There is a lot more to charity than giving away money and you need help and guidance with it."
Cheshire entrepreneur Bill Holroyd is committed to engaging the next generation in gainful leisure time by providing state of the art youth clubs across the country. The charity he leads, OnSide Youth Zones, is already providing opportunities for 25,000 young people across the North. Holroyd's aim is to build 100 clubs across the country and provide every young person in the UK with somewhere safe and inspiring to go in their leisure time.
Holroyd speaks from experience when he advises "be brave. Think big. Be generous and get involved rather than just giving money."
Sir Peter Lampl, through his charity the Sutton Trust, is levelling the playing field for tens of thousands of low and middle income young people across the UK, gaining them access to the best educational opportunities.
Sir Peter advises: "Have clear goals and focus on them. Rigorously evaluate and be prepared to change or discontinue a programme if the results are not good. Think about scale, and whether what you are doing can be expanded greatly, perhaps through changes in government policy. Collaborate when it makes sense and will have a positive impact."
East Ender Jack Petchey, now in his 90th year, has given £100m through his foundation to encourage young people to believe in themselves. His mantra 'if you think you can, you can' underpins his many confidence-building projects for young people in his local community. He echoes Sir Peter Lampl's advice to focus: "Be clear what you want to achieve. If you haven't defined what your objectives are or what impact you want, you may find yourself being dissatisfied – it is actually quite hard to give money away wisely!"
Sir Ian and Lady Helen Wood through their family foundation are "helping people to help themselves". They are creating a sustainable tea business in two areas of Africa, partnered by the Sainsbury family's Gatsby Trust. The project now involves 45,000 small-holders and estate workers. Sir Ian says it is "as much a business challenge as anything else. We did the research and chose something we could be effective at and measure. Then we put the plan into action."
Sir Ian, who describes himself as a 'pessimist', is only now, after six years, allowing himself to feel a modicum of satisfaction. "Generally, I don't feel good because it is not going fast enough and there is still a lot more to do but we are starting to see some improvement. Farmers are just starting to display entrepreneurial behaviour and be more hopeful. That does make me feel good."
Sir Ian's message is that most people in this world can make a difference whether it's by giving their time, knowledge and/or money.
Entrepreneur Suzanne Biegel is the winner of The Beacon Award for Impact Investment. Since selling the e-learning business she co-founded, Biegel has become a passionate social investor, a collaborator and catalyst for social investment across the globe.
Biegel's advice to others is: "To consider philanthropy and impact investing as all one part of a spectrum on which you can use your wealth, to take risks, and to think about what really matters to you. Contribute to build infrastructure for new systems. Oh, and remember – this should be fun. Enjoy it. Explore. Find friends to share it with."
Founder of Winton Global Investment Management David Harding and wife Claudia are winners of the Beacon Award for City Philanthropy sponsored by The City of London Corporation's charity, City Bridge Trust. Through their family and corporate foundations, the Hardings have given millions of pounds to research and causes that apply data to tackle issues such as disease, as well as promote science and maths. In 2014 they donated £5m to create a new maths gallery at The Science Museum that will open in 2016. David Harding's advice is "don't be too afraid of making mistakes".
"Though failure is painful, if I don't have some donations that are not successful, then I am not taking enough risk. It is something you have to take on board; you cannot have a 100% success rate," David Harding
Award-winning rap artist, songwriter, actor, producer and director Ben Drew (aka Plan B) is the winner of the Beacon Trailblazer Award. Through his charity Each One Teach One, Drew is laying the foundations for a different society - one that challenges a system that measures success only by academic qualifications and alienates young people who are unable to gain them. Drew is supporting people and organisations that can invest young people with vocational skills that will allow them to succeed in life.
Drew's advice is "to invest in people not just ideas; the ideas won't work if the wrong people are in charge of realising them."
To read about all the winners and their work and upcoming events go to the Beacon Awards 2015 home page.
Cheryl Chapman is editor of City Philanthropy.