Seif Congress - 19 January 2016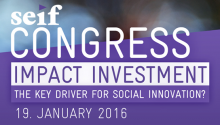 Impact investing has become something of a buzzword, and although everybody is talking about it not everyone understands how it can actually work in practice. This may be especially true for Switzerland, where impact investing is, if developing really quickly, still lagging behind the rest of Europe.
The rapid growth of impact investing has left many organisations asking themselves how to adequately adapt to this fast changing landscape and make the most of the opportunities within it.
In an attempt to shed some light on these issues, seif has gathered some of the most renowned European experts in its Congress Impact investment - The key driver for social innovation?
There, attendees will learn more about the opportunities that lay ahead for them in this field. Those new to impact investing will find out what to look for when starting by the hand of Suzanne Biegel, Senior Advisor at ClearlySo and founder of Catalyst at Large, and Dr Falko Paetzold, fellow at the Initiative for Responsible Investment at Harvard University and founder of the Swiss sustainability platform GreenBuzz.
Meanwhile, those already in the field or coming from more traditional backgrounds such as foundations, family offices or trusts will identify ways of getting financial returns from their investments without losing their social focus thanks to the inputs of Dr Katharina Sommerrock, Head of Philanthropy Advisory at LGT Venture Philanthropy, or Danyal Sattar, Social Investment Manager at Joseph Rowntree Foundation. 
Corporates, on the other hand, will gain insights into how being more active in the field of impact investing and social innovation can become a business opportunity and a source of new markets through the words of Hedda Pahlson- Moller, Member of the Board of Directors of EBAN and EVPA Board Member; while Karen Wilson, Development Co-operation Directorate at OECD, will help public institutions to explore the opportunities and benefits of collaborating with private investors and organisations during.
This gathering is therefore a unique opportunity to encourage the conversation between the different actors in the field of impact investing throughout Switzerland and Europe, and promote a lasting collaboration to ensure a thriving impact-investing ecosystem. 
Bringing together some of the most relevant European experts in the field, the Congress "Impact investment - The key driver for social innovation?" will be an opportunity for all of those interested in impact investing to ask questions, share best practices and learn what other countries are doing on the topic and how this can be transferred to the Swiss context.
The event will take place on 19 January 2016 in Zurich. Our readers can enjoy a special price by using the following discount code: Seif304043@IIC.
For any questions or information, please contact Julia Dreessen at jd@seif.org, or call us at +41 44 380 16 55.