Philanthropy Impact support the launch of the UK Wealthtech Landscape Report 2022 from The Wealth Mosaic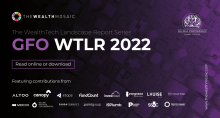 Philanthropy Impact were pleased to have been recently invited to be involved with The Wealth Mosaic's third edition of their UK WealthTech Landscape Report, which had a focus on futureproofing for wealth firms. With regulations, client demand and the effects of the pandemic, the wealth industry has been in continuous flux as it works to meet the interests of clients in this rapidly changing world.
There is a new generation of clients, driven by millennials and women of wealth (but not exclusive to) that tend to focus on impact investment and ESG, and we are observing that the wealth industry is finding this a challenge.  Philanthropy Impact were invited to write the foreword of this report as it aims to share the best methods to meet these new expectations, an area in which we are bringing huge value to the private client wealth industry.
You can download the report here
On 12 July 2022, the report was launched with an in-person event, where the findings were presented and discussed.  We first heard from Capgemini, who presented the global findings from their World Wealth Report 2022, which had a focus on the need for customer first strategies – putting the client at the heart of wealth management. One of the four key highlights being that HNWIs demonstrated measurable interest in emerging asset classes, especially ESG and digital, and vocalised their desire for better digital and personalised offerings.  This dual interest of digital and personalisation were an ongoing theme throughout the insightful event.
Interesting findings from Capgemini were that sustainable investing is a priority for HNWI, 66% of HNWIs across Europe say investing in causes with environmental, social and governance (ESG) impact is a key objective when it comes to managing their wealth, and sustainable investing is a priority for them. This is positive news with 64% asking for an ESG score to learn about a fund's societal impact and performance, however, 50% of wealth managers lack clarity regarding sustainable investing returns.  It was clear from these findings that, whilst clients are demanding this, the wealth industry is still unable to give clarity when discussing ESG and impact investing, and there is a need and desire for upskilling the workforce in this area.
As the three discussions began, there was a running theme of HNWI demanding complex and holistic services, and that the demand for a more digital service was not being adopted by traditional wealth firms. I found myself reflecting that this is similar to the challenge we face with the adoption of bespoke philanthropy, social investment and impact investing by traditional firms.  Even though clients are increasingly demanding this, why is it only a few early adopter firms are taking on this challenge and finding solutions?  The discussion highlighted issues such as how long-standing generational relationships make onboarding client accounts to digital format difficult, due to the historic storing of data, and the perceived misuse and risk of digitalised data. What I found was an important discussion in the context of our mission, was the discussion around personalisation and bespoke relationship management not being replicable in the digital world.
This was an important concept for me as I sat listening to the debate because, as our network knows, the key to long-term, strong and personalised relationships is discussing values with your clients.  First understanding what they want their wealth for - the impact they want it to have (on their family, their life and perhaps on society as a whole) and then developing and applying their wealth strategy. The mechanics of which could easily be automated and digital.  Asking questions about their motivations, goals and ambitions for their wealth before assuming they wish to grow and accumulate wealth would allow for the digital markers needed to create bespoke digital accounts, as an example.
For me, alongside the insight around the need for the tech industry to support wealth firms in adopting digital services, this was an enlightening session that highlighted having values-based conversations with clients on a regular basis, regarding the impact of their wealth strategies, will be the differentiator for firms as inevitably we move towards a more digital service offering.
The early adopters of both digital service and values-based, purpose-driven wealth strategies will be ready to meet the rapidly emerging client expectation. Firms with Relationship Managers who are empowered to discuss wealth, values and impact in more depth with their clients will be able to delicately, and proactively, find the balance between the client's expectation for an instant digital offering and their expectation of a bespoke and personal touch relationship. This will help to create long-term and strong client relationships.
by Zofia Sochanik, Director Membership and Development, Philanthropy Impact