Philanthropy Impact at Guernsey Sustainable Finance Week 2022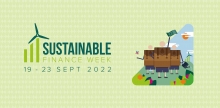 You can view the full programme for the event here
Register for our free in-person taster session in Guernsey here
We are excited to announce that Philanthropy Impact's international programme of events and training is starting up again. To kick if off we are thrilled to have been invited to Guernsey to take part in the We Are Guernsey Sustainable Finance Week 2020 from Monday 19 September 2022 to Friday 23 September 2022.
To demonstrate that Guernsey is strongly committed to the sustainable finance agenda, as United Nation's Finance Centres for Sustainability Global Network, the Network for Greening the Financial System and the UN's Sustainable Insurance Forum – they are hosting a plethora of market leading keynote speakers and informative panel sessions run by Guernsey Green Finance. Established in 2018, GGF is Guernsey's sustainable finance initiative, with the objective is to leverage Guernsey's expertise to help lead in routing capital to climate finance.
We are bringing a taster session of our pioneering training programme to the Channel Island and will be inviting several Guernsey based financial institutions to join us for the hour long session.  This is an incredible opportunity for Philanthropy Impact to collaborate with these firms in upskilling their teams in how to have values-based conversations with clients about their motivations, ambitions and goals for their sustainable and purpose driven wealth strategies.
Our training workshops are highly interactive, engaging and create a space for networking with peers across the difference private wealth services.  See below for details of the training session and book your space. 
We are really looking forward to networking and engaging with the delegates and working towards our mission of
These events will not be live streamed, they are physical attendance in Guernsey only. However, the sessions will be recorded and highlights from the event will be available for viewing on-demand at a later date – we will keep you posted.