Join STEP at the event Cross-Border Giving: Anonymity in a Transparent World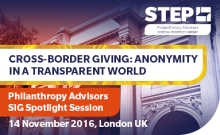 The event is taking place Monday 14 November 2016, London – UK.
This morning conference focuses on the privacy afforded to clients and their charities in this current era of transparency. It will consider the legal and regulatory frameworks and practical considerations that fiduciaries and advisors to donors and their charitable entities must consider.  
Topics covered include:
Anonymity and the Impact of Regulatory Transparency

Risk Control and Mitigation Strategy for Fiduciaries

International Structuring: Onshore vs. Offshore Value Propositions

Anti-Terrorist Financing

Charities and Divorce
STEP is offering all members of Philanthropy Impact the discounted event fee of £80. Click here for more details.