Investing for Global Impact 2019 report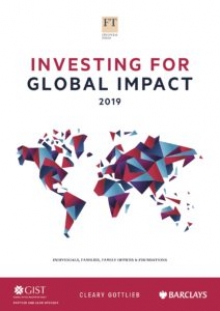 Individuals and family offices allocate 30% of their total assets to impact investing, almost double the percentage compared to 2014
The sixth edition of the Financial Times' Investing for Global Impact 2019 report has been released. The report – which provides unique insights on wealthy individuals, families and their foundations regarding their experiences and activity in impact investing and philanthropy – highlights that the individuals and family offices respondents are currently allocating 30% of their total assets to impact investing, almost double the percentage from the original baseline in the first 2014 report. 
Founded and sponsored by Global Impact Solutions Today (GIST) in partnership with Barclays and the international law firm, Cleary Gottlieb Steen & Hamilton, the Investing for Global Impact 2019 report shows how wealthy families and foundations are using their capital to create positive social and environmental impact.
The comprehensive report includes insights from its 90-question survey, which was answered by 410 respondents that together equal $124,7 bn of cumulative wealth, as well as exclusive interviews with key actors, investors, and organisations. To date, it is the biggest global survey answered by this exclusive group of wealth holders. 
The main findings in the 2019 report include the following
• There are signs of maturing practice among impact investors:  34% are active in multiple impact investments across asset classes or causes, 41% have made their first investment and are considering more, and 13% actually consider it their primary approach to their portfolio.
• 46% of respondents (up 6% compared to last year) consider impact investing the 'core portion' of their investment portfolio. 
• The top two most invested themes this year (invested in by approximately half of respondent portfolios) are clean energy/green tech and education/skills.
• Both social impact and financial returns have remained a top priority (over societal impact or financial return only) for individuals (73%), SFOs (53%) and MFOs (77%) in their impact investments. 88% of them either met or exceeded their financial returns expectations. Additionally, 92% met or exceeded their expectations of social and environmental objectives. 
• The top three reasons for those not currently involved in impact investing are performance concerns (14%), lack of awareness of opportunities (14%) and lack of appropriate products (10%).
• The top three reasons for those not currently involved in philanthropy are no opportunity for financial returns (14%), lack of awareness of opportunities (13%), and mistrust/green washing (13%). 
• Respondents who are already active in impact investing are more conscious measuring and reporting on the impact of their capital. One in 10 respondents (12%) state that the lack of universal measurement metrics for impact investment total performance is a major barrier for impact investing as a concept. 
• Uniquely this research also includes respondents who are currently are not engaged in neither philanthropy or impact investing, , allowing a comparison between the financial results achieved through impact versus non-impact investments, which are comparable. 
•This year the report notes a growing concern of "impact washing". This could be linked to the lack of a generally accepted definition of the field and the absence of regulations. 
This year's report also includes interviews with:
• Impact Investor Jim Sorenson, discussing the power of public and private collaboration
• Author and Consultant Jed Emerson, inviting more personal, spiritual journey into impact motivations and outcomes
• Infosys Co-founder from India Narayana Murthy, discussing "compassionate capitalism" 
• Norwegian Johan H. Andresen, sharing  why social entrepreneurship is vital to welfare state systems
• Jose Parra and Juan Pablo Cadavid of Taurus Capita, sharing the opportunities, challenges and harsh lessons    learned from operating impact investments in Colombia
• Teya Dusseldorp and Bjorn Everts, sharing their perspectives in our split case study of the Dusseldorp Forum and its beneficiary Karrkad Kanjdji Trust (KKT).