IFAB ONLINE 2020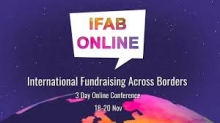 We are really pleased to support the International Fundraising Across Borders (IFAB) Online as a media partner!
26 videos, with 46 speakers, released over 3 days with live Q & A's. Learn how to raise more funds for your organisation internationally through videos which you can watch at your leisure and as often as you like.
Successful international fundraising can be critical to charitable, educational and not-for-profit organisations, particularly in these COVID days when every penny counts.
The IFAB online conference is an opportunity to learn from experienced international fundraisers, with 20 regional fundraising sessions and 6 specialist sessions to hone your skills and improve your international work. Whether your focus is education, arts, heritage, or just attracting an international audience and fundraising internationally, there really is something for everyone.
Live Q&As will provide an opportunity for you to put your questions to our expert speakers, and our new international fundraising community app will provide ongoing networking opportunities for international fundraisers around the globe.
NOTE - 30% discounted fee on the 3-day pass at the conference are available for Philanthropy Impact members and stakeholder. Please use the IFABPI code.