AVPN 2019 Conference 25 - 28 June, Suntec Singapore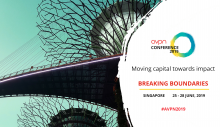 We are really pleased to support the AVPN Conference as a media partner!
Now in its 7th year, the AVPN Conference is Asia's largest gathering of social investors who are seeking to move capital more effectively towards social impact across Asia-Pacific. To address complex challenges facing the region in line with the Sustainable Development Goals (SDGs), this 4-day premier event will provide thought leaders and capital providers opportunities to engage in cross-sector collaboration, best practice knowledge-sharing and advocacy.
Focus topics include clarity and guidelines around sustainable finance and impact investing, improving corporate sustainability and effective philanthropy strategies, catalysing innovation and entrepreneurship, and foster stronger public-private partnerships. In addition, the conference will highlight high-impact issue areas including, climate action, healthcare and nutrition, and gender equity. 
The goal of the AVPN Conference 2019 is to ensure social investors are better equipped to champion and deploy capital more effectively into critical issues that matter most to them.
Join the largest social investing conference in Asia to connect, learn, and lead.