PART ONE OF A THREE-PART SERIES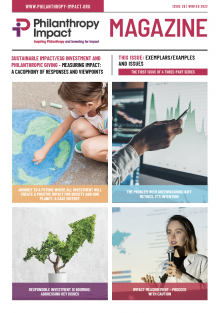 In this issue of the Philanthropy Impact Magazine we will look at the current state of and issues related to sustainable impact including measurement practices in impact/ESG investment and in charities and social enterprises and the practical challenges and issues that philanthropists and social impact investors are facing.
Social impact investors and philanthropists, as well as charitable organisations and social enterprises, are increasingly faced with the challenge of needing to demonstrate the outcomes of their actions and work and there is a growing interest in applying approaches to impact measurement – this in light of the growing trend towards applying SDGs and to ESG/impact investing.
But what does 'impact measurement' really mean and how to overcome the mystery of collecting and evaluating data?