Ram Gidoomal - Chairman of South Asian Development Partnership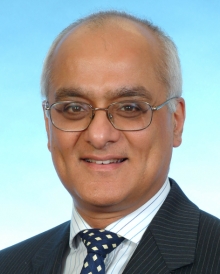 "Diversity is crucial for philanthropy in a multicultural Britain if we are to create integrated societies. It is not just important; it is fundamental," says entrepreneur and philanthropist Ram Gidoomal, who has for 25 years devoted himself to working with other philanthropists and charities in addressing poverty across the globe, supporting the marginalised and addressing inequality in the UK.
Breaking down barriers and building bridges has been at the heart of much of the highly sensitive philanthropic work he has supported; some has shaped the policy of UK government. For example, The South Asian Development Partnership (SADP) charity, of which he is co-founder and a trustee, delivered ground-breaking research in the 1990s that identified for the first time the 'South Asian corridor', a settlement pattern of South Asians in the UK.  It delivered new insights into the then 1.5 million strong community (based on 1991 Census figures) that was previously perceived as a homogenous group. It highlighted the diverse cultural groups that exist within the corridor, the many different and challenging issues they each face and the huge potential they offer the nation as holders of disposable income exceeding £5bn. "That research based on Census figures completely changed our understanding and perception of the South Asian immigrant population and expectations for it," says Gidoomal.
From the front room of his Surrey home, which has served as the nerve centre of his philanthropic operations over the decades, the former UK Chief Executive of the Inlaks Group explains why a pluralist, inclusive approach must be sought in addressing the complicated and politically fraught issues of racism, terrorism, inequality and the radicalism of young Muslims. "Solutions imposed from outside communities are not credible. There are massive issues of trust for many immigrant families, who have not always been treated fairly by their host nation, and whose issues are not well understood by those outside these diverse communities. Philanthropy in the UK cannot continue as a monoculture; it must become more pluralist. Only then can credible and acceptable solutions be found.  If we don't address these issues then all society will be losers. The summer riots in the UK showed how inequality can lead to the breakdown of civil society," says Gidoomal, who warns that the current climate across Europe is breeding a new wave of Right wing extremism.
While Gidoomal acknowledges there is widespread giving among ethnic communities, he says it is largely directed inwards - towards community centres and places for worship and remittances to address needs within their countries of origin. "Communities need to look beyond their communities. They need to address wider issues if communities are to develop their full potential."
Gidoomal's own philanthropy is concerned with secular and highly political issues, though it is a very strong expression of his faith. The theme of religion and politics is explored in How Would Jesus Vote? one of several books he has authored.
Born a Hindu, raised by his uncle as a Sikh, and having attended a Muslim school, it is as a Christian Gidoomal has found his spiritual home. "I had grown up seeing my parents and family give so it has always been a part of my life, but there had always been a sense of 'you reap what you sow'. It was as a follower of Christ that I came to understand giving in its truest sense: the giving of oneself, with humility and in thanks and celebration for what the Lord has given. It's an account that can never be settled and what ever I give will never be enough," he says.
This is a powerful statement considering Gidoomal has raised millions of pounds using the power of his extensive networks, his business acumen, good humour and a firm belief in 'doing' – the 'D' of his 'A,B,C,D' methodology for achieving greater integration: "Awareness, bridge building, crossing cultural divides, and do something," is how he sums up his approach. 
A man who loves a sound bite, Gidoomal lives by one of his favourites: "Never let what you cannot do stop you doing what you can do."
Ram Gidoomal CBE is an entrepreneur, and former UK Group Chief Executive of the Inlaks Group, a multinational business with 7,000 employees. He is chairman of the Office of the Independent Adjudicator for Higher Education and Allia Industrial and Provident Society Ltd. He is a Non-Executive Director of Amsphere and a member of the External Relations Group of Water (UK).
Gidoomal is Chairman of South Asian Development Partnership and the author of several books including The UK Maharajahs and The British and how to deal with them: Doing business with Britain's Ethnic Communities.