Rachael Dove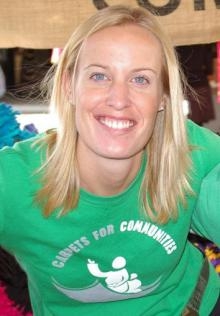 Former Sydney-based Man Group executive Rachael Dove, 31, began her giving career in her twenties, but it was being raised in a home where helping others was the norm that made philanthropy such a natural part of her life. "We lived in a small Suffolk village where there was a sense of community and where my mum and gran were both very involved in charity and public life."
Now back in the UK and director of London-based Miller Philanthropy, a grant-making foundation, Rachael explains how she found her 'cause' atop a bicycle in Cambodia.
"Seeing small children forced to beg to survive was awful and I knew I wanted to do something practical and purposeful."
It led to her volunteering at Cambodia's Sunrise Children's Village orphanage, helping co-ordinate and find funding for the children of the orphanage to visit Australia to sing at Sydney Opera House, and raising 45,000 AUD (£30,360) for the orphanage through a 400km cycling challenge in 2007 in which she led a group of 14 women.
While employed at Man Investments in Sydney between 2006 and 2011 she supported other Cambodia linked charities, volunteered through the company's CSR scheme to help children in kinship care that had been abandoned or orphaned by parental illicit drug use and ran the company's Foundation when it set up in 2010.
Though Rachael undertook her charitable work for authentic reasons she says she feels it has given her so much back. "It has been an enriching experience and given me purpose and perspectives that I wouldn't have been able to gain in any other way. Ultimately it has led to a career in philanthropy.
"It is always my charitable activities that raise the most interest in job interviews and I think those experiences have helped set me apart from other applicants. Volunteering is thoroughly developmental. However in a 'long hours' culture – such as the City in London – it is difficult to find the time and that's why CSR programmes where you can take an hour out of a day to volunteer are so important."