Nomura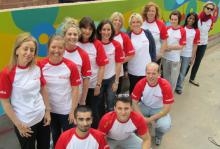 Global investment bank Nomura acquired Lehman Brothers in 2008 and, despite community partnerships being uncommon in its home market of Japan, Nomura agreed to develop a new unique combination of educational, health and community initiatives to support the local communities where the bank operates.
In spite of all the other considerations involved in the integration, Nomura's senior management quickly recognised the value to employees of being involved in the community and made multiple commitments with a long-term approach. Nomura hired Anthony Harte to develop the bank 's first Community Affairs platform and to build on the legacy of the partnerships established under Lehman Brothers, as well as expanding to new relationships.
Nomura set about with one aim, to support disadvantaged young people in the local communities where the bank operates. Nomura developed two school partnerships, a focussed fundraising campaign and the creation of the bank's first grant making vehicle, The Nomura Charitable Trust.
The implementation of the programme relied on a network of volunteers, with approximately 40% of Nomura's employee getting involved, giving more than 10,000 hours of support. Volunteer initiatives included multiple school partner programmes, business mentoring and skills workshops.
Three years on this combination of programmes has benefited more than 12,000 disadvantaged young people. Angie Sharma, Headteacher at Southwark Park Primary School, one of Nomura's partner schools, said that pupils who had help from Nomura volunteers "have done significantly better in their reading skills in relation to the whole cohort".
As well as the benefits to the local community, schools and charitable organisations, Nomura continues to see evidence of the positive outcomes to its London operations. A recent survey showed that those familiar with the Community Affairs programme (77% of employees surveyed) had a five percentage point aer sense of pride in working for Nomura. The creative and interpersonal skills acquired by a proportion of the volunteers would cost at least £150,000 to develop through conventional training. These increased skills and engagement has delivered a 240% return on investment. By taking an active role in the community, Nomura's programmes are contributing to the development of a new culture within the organisation.
"If ever anyone is wondering about the value that working with school children adds strategically, all they need to do is look at the pride and engagement that is generated following a school visit, not just for those who take part, but for the numerous colleagues who hear about it," says John Phizackerley, Nomura's chief executive officer, EMEA.
Nomura has been recognised through six industry awards, most notably, Nomura was awarded the Lord Mayor's Heart of the City Dragon Award in 2010 for the bank's contributions to local community activities. The award, which was a testament to the thousands of employees involved in the various programme was received from the Lord Mayor at the Mansion House in front of an audience of industry peers.