Luke Cameron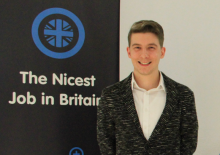 It seemed unthinkable. 365 days. 365 good deeds. That was Cheltenham resident Luke Cameron's pledge at the beginning of last year – a good deed for each day of 2014. What seemed unthinkable soon became a mission that changed Luke's entire outlook on life.
One year on and the 26-year-old has attracted international media attention, been dubbed the "nicest man in Britain" and was awarded a new, paid job by energy consultancy UA. It's no standard job though. Luke will travel the length and breadth of the UK to give 45 different charities his time throughout 2015.
"For me giving is all about people," he said. "It's so important to be kind. I see no reason to be rude, resentful or angry. I hold those values in very high esteem. Kindness costs nothing."
The Nicest Job in Britain was developed by UA to encourage people and businesses to 'do more good'. Luke was awarded the position following a rigorous two-month nationwide recruitment campaign.
As UA's National Philanthropy Manager Luke is assisting charities with whatever tasks they require help with, from fundraising events to marketing, as well as helping them save money on their utility bills. He's already had success with implementing Google Ad Grants at several of his charities, helping them gain awareness through free advertising space on the search engine. 
Charities on board with the Nicest Job in Britain campaign vary from Bliss, a charity providing vital support for premature and special care babies, to the Great Western Ambulance Service, Scouts UK and Emmaus, a charity that aims to end homelessness. 
Luke, who survived emergency open heart surgery at just 10 years of age, has been an aspiring philanthropist since his teens. 
At age 17 he started and ran a small business, donating all the profits to a local charity.
During his university years he befriended a young woman who fell pregnant during their second year of study and helped her through her coursework, dissertation and then raised her baby. 
Today that baby is Luke's goddaughter.
Several years later Luke lost a dear family friend to cancer. Describing her as "the most amazing woman I will ever meet", the loss hit Luke hard and he knew he needed to do something in honour.
From buying homeless people coffees, baking cakes for friends, giving away a winning £25 lottery ticket… the gestures have been varied, wide-spread but always heartfelt.
Luke's journey with The Good Deed Diary culminated on New Year's Eve when he handed out £365 on the streets of Cheltenham – £1 for each day of the year.
"Life experiences have taught me to care about others, regardless of what they have gone through, who they are or what they have done," Luke said. "We are all human and we all deserve compassion."
Luke said he wants to use this year in his role as UA's National Philanthropy Manager to establish himself within the charity sector with another year of many more good deeds.
"Ultimately, this is where I want to take my life and my career," he said. "I would love to be in a position to be a true philanthropist and I believe hard work and a determination can go a long way. 
I try not to think about the future too much as life is an amazing journey and I am happy riding the train, but I would hope to achieve great things by helping others."