Sir Kenneth Olisa OBE, FRSA, FBCS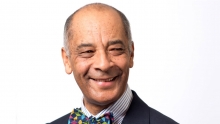 Sir Kenneth Olisa OBE, current Lord-Lieutenant of Greater London, could be described as core British values personified: integrity, excellence, social mobility, justice and inclusion for all.  Ken, as he always introduces himself, is an exceptional man. 
Raised alone by his formidable mother after his father, a Nigerian lawyer, had abandoned them in the early 1950s, Ken grew up in a working class part of Nottingham in a house with an outside loo and his favourite playground was a bombsite amongst buildings levelled in WWII.  He moved smoothly from the local primary school, where his headmaster played classical music in assemblies and made all the children try caviar so they would never be intimidated by the elite, to grammar school and on to Fitzwilliam College, Cambridge. 
The recipient of an IBM scholarship at university, Ken rose quickly through the ranks at IBM and then Wang Laboratories going on to found and then float his first technology merchant bank, before setting up Restoration Partners of which he is still, rather astoundingly considering the rest of his responsibilities, Chairman.  He is also Chair of Shaw Trust, Founder and Chair of the Aleto Foundation and the generous donor for a stunning new library at his alma mater. 
Other career achievements include being the first British born black man to be on the board of a listed UK company; chairing the homelessness charity Thames Reach for over twenty years; coining the now renowned phrase "more Soviet than City" after being thrown off the board of the Eurasian Natural Resources Corporation, serving as an inaugural member of IPSA sorting out the MPs' expenses scandal and, most recently, his principled defence of Lady Barbara Judge of the Institute for Directors. 
 
In many ways Ken's view of the world is beautifully simple.  Crediting all his fundamental beliefs to his mother, he holds that everyone must do their best, injustice must be fought and no talent should be wasted.  People are on a spectrum of good and evil he explains: everyone does everything for their own fulfilment but good people get gratification from helping people, sharing their talents and resources and being positive members of society. 
Evil folk are the opposite – their immovable drive comes from a desire to profit from the suffering of others.  The difference between bad people and evil ones is that bad people are capable of redemption.  People whose thrills come from actions that only benefit themselves - buying a 500ft boat for example - are bad.  But they can learn from the good citizens that there is also a buzz to be gained from helping others.  A thrill that is far greater that that to be gained from selfish pleasures. 
 
Take the Olisa Library at Fitzwilliam, which Ken and his wife Julia's £2 million gift in 2011 made possible.  Ken calls this his proudest philanthropic achievement as well as the cause of his greatest philanthropic thrill.  Fitzwilliam was originally established to provide a Cambridge education to undergraduates who were unable to afford membership of a college.  Ken emphasises the college's continued pride in its commitment to widening access based on its heritage as a home for outsiders and the spirit of solidarity this brings to its undergraduates: the institution is elite but not elitist.  He delights in the story that he was encouraged by his tutor to enjoy everything Cambridge had to offer and not to bother aiming for a first; and credits his enthusiastic pursuit of that advice with "settling his life" and setting him on the path to future success. 
 
And the naming of the library?  "That's the thrilling part" he says, "I want to be able to enjoy what I can give back in my own lifetime and we wanted our children to see how happy it has made their parents to give away money to help strangers."  Happily, it is a buzz that keeps on giving.  For example, one cold, wet evening in London he was late for a meeting and frustrated to be waiting in the rain for a taxi.  "A young man accosted me: asking if I was Mr Olisa.  He apologised for bothering me but said he was a Fitz alumnus and just wanted to thank me for the library and tell me how much it meant to him.  I have never had a feeling like it, I was walking on air for the rest of the day.  I am immensely proud of the work of Thames Reach and Shaw Trust for example, but I have very little to do directly with their success, whereas the library, it's me."
 
As you would expect from such a successful man, there is no question that his calm demeanour and positive spirit are underpinned by a phenomenal will. He has encapsulated his world view in his official, College of Arms motto – Do Well. Do Good.  But when he tells me his unofficial family motto "DFWTO", it is with a glint in his eye that dares me to be shocked – I won't expand the abbreviation but suffice to say it summarises a clear recommendation to respect the Olisas! 
 
Ken speaks with huge pride of his wife's charity work helping ex-homeless men and women conquer illiteracy and their two daughters, one an entrepreneur and the other a champion for women in business, but emphasises that the girls have made it on their own.  He and his wife have helped them financially on occasion, but a loan really meant a loan.  That said he certainly doesn't disapprove of inherited wealth – in fact he sees envy as one of the most negative of emotions.
 
In his role as Lord-Lieutenant, he is exhilarated to play a part in upholding the dignity of the monarchy.  He sees the Royal Family as cultural representatives of the goodness in our society and is bowled over by their tireless commitment to other people.  He cites as an example the establishment of a Met Police cadet unit at the Al-Manaar Mosque near the Grenfell Tower as evidence of the power of the goodwill created by visits from Prince Harry and the Duchess of Sussex. 
 
"There is a great misconception that philanthropy is only about money."
"I want to be able to enjoy what I can give back in my own lifetime and we wanted our children to see how happy it has made their parents to give away money to help strangers."
"As Lord-Lieutenant, I have been blessed with the greatest imaginable lever to do good.  The influence that I am able to bring to bear is more powerful than any amount of money anyone could give."  His initiatives to 'Build bridges' (the title of his Lieutenancy strategy) across London are already bearing fruit.  "There is a great misconception that philanthropy is only about money." Ken explains.  It is actually about engagement rather than cheque signing.  London possesses the assets to tackle the needs of much of the capital's disadvantaged, Ken argues, and one of the first steps is that we must build more bridges between communities. 
 
The campaign against knife crime is something that is, not surprisingly, commanding a lot of Ken's attention at the moment.  But he is optimistic.  He knows that there is a huge amount of work to be done but he believes the building-blocks needed to tackle the problem are either already in place or could be easily positioned.  "There are hundreds of very impressive, active, often faith-based groups and small charities in every community who know how to solve the problems. 
What they need is acknowledgement, encouragement and access to the resources required to empower them to get on with the job," he states.  Currently too many organisations feel that they are working alone and this must be changed. However no amount of community activism will work without engagement from wider society and this means more general acknowledgement that knife crime is a consequence of the drug trade.  Ken points to the hypocrisy of middle class dinner parties at which Fairtrade coffee is served along with illegally procured drugs.  Until the capital's drug users understand their role in feeding the violence there will be no end.  
 
Sir Kenneth was initially reluctant to become a BAME role model, but is now fully converted to the idea.  "I had an epiphany a few years ago: I was being rather dismissive while on the way to chair a debate about the need for role models for young black men.  My driver, whom I had known for a number of years, stopped me in my tracks.  He said that he lived in Peckham and his children believed that people like them didn't work.  They dismissed their Dad's evidence to the contrary in favour of their neighbours' experiences. 
I sympathised and asked how things were now and he said the problem was solved – both kids were going to University.  I asked what had changed their attitudes and said that he had downloaded my CV and shown it to them as proof of what was possible. I am rarely speechless but I was then." On arriving at the event, Ken told the room they should forget debating the need and spend the time working out how to solve the problem instead.  Soon after he founded the Aleto Foundation (motto: "Sharing success with tomorrow's leaders") and takes obvious pleasure in watching its mentors and sponsors work with young people, providing confidence-building social capital to raise their aspirations and make the most of their talent.  An echo, perhaps of that formative classical music and caviar experience.
 
Ken believes every community contains sufficient potential leaders to solve the problems of social harmony, mobility and inclusion but individuals need to know they are part of a supportive system where the majority are good people who share their values. Social progress is being made he argues: "Life in 21st century Britain is so much better than my childhood world of outside toilets and bombsites as playgrounds.  We are not going in the wrong direction." And you can't help but believe him.
Interview by Mary Rose Gunn, Chief executive, The Fore
About the author
Mary Rose Gunn is Chief Executive of The Fore and its umbrella organisation, The Bulldog Trust. Launch in March 2017, The Fore is a new venture-capital style grant fund for small charities and social enterprises with a mission to inject innovation and dynamism into the charity sector. As CEO of The Bulldog Trust, Mary Rose has also run Two Temple Place, the extraordinary historic mansion on the Embankment and headquarters of the trust since 2007.
Mary Rose designed and developed The Fore's innovative funding model and Engaging Experience network which enable small, early-stage charities to access exceptional expertise, pro bono support and funding. The Fore has made 75 grants and distributed over £2m funding in its first 2 years of operations.   Alongside these activities, in 2011 Mary Rose created the Winter Exhibition Programme at Two Temple Place. Now in its eighth year the programme's annual exhibitions, supported by partners including the Arts Council England, provide a showcase for museum and gallery collections based outside London and have welcomed over 280,000 people. 
Mary Rose has a degree in Modern History from Lincoln College, Oxford and previously worked in roles in media and politics.  She sits on the Board of Margaret Pyke Trust, is an alumni of Women of the Year, a Fellow of the Royal Society of Arts and in 2018 was named as one of NatWest WISE100 leading Women in Social Enterprise.