Iraj Ispahani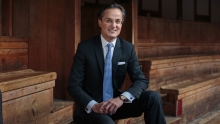 Iraj Ispahani prefers not to use the word philanthropy because he is uncomfortable with its implications of hierarchy. This is not necessarily what you would expect from a man who is on the Group Board of his Bangladesh headquartered family business, had a successful career in financial services, helped build an online communications business and has various high-profile philanthropic achievements.
But Iraj's implication is that the global vantage point he enjoys is both precious and precarious - to fall back on hierarchy would be showing a complacency deeply uncomfortable for this thoughtful and concise man.  "The next generation are uneasy with the philanthropy label with many preferring the term social justice. We would do well to listen to their concerns carefully" he adds.
Iraj Ispahani is a global citizen: Bangladeshi but with Persian heritage, he is based in London, married to a Finn and has two children in British education. Iraj was born in 1960 into the 10th generation of one of the most prominent families in the region. 
The Ispahanis had travelled east from the legendary Persian capital city of Isfahan two centuries earlier and he talks keenly of his family's luck in surviving relatively unscathed through 200 years of geopolitical turmoil. He credits the Ispahani belief in community as a playing a crucial role in ensuring the family's resilience and prosperity. His view is that "if we look after the communities that we live within and operate in, they will also look after us".
The Ispahani Group, the family conglomerate Iraj sits on the board of, employs 12,000 and has operated over two centuries across South West Asia, stretching from Iran to Burma though primarily in Bengal - Ispahani tea is the leading tea brand in Bangladesh today, drunk by almost a third of the 160m population and recently stocked by Harrods who were drawn to its heritage brand. Textiles, jute and cotton, real estate and logistics plus a fast-growing packaged foods division form the core of operations. 
The business is still 100% owned by the family and the strategic choices are carefully made. "Family businesses are much better at taking the long view, the original patient capital.  We tend to prefer businesses which we understand the dynamics of and can risk manage well" as Iraj puts it. 
Iraj explains that it was during his childhood he became aware of the two areas of social justice the family supported, primary and secondary education for girls and boys and eye health.  "My personal choice was to build on the charitable themes the family had pursued using my international network, partnerships and technology". Iraj is highly committed to Seeing is Believing, Standard Chartered Bank's global community investment programme to tackle avoidable blindness. He has been an External Member of the Advisory Board for a decade during which Seeing is Believing has helped over 160 million people in Asia, Africa, the Middle East and Latin America tackle avoidable blindness and visual impairment. 
The inspiration for Seeing is Believing came from the Ispahani Islamia Eye Hospital and Institute which was founded in 1960 by Iraj's great uncle Mirza Ahmed Ispahani. It was initially an eye dispensary but as queues gathered for its services it became clear to the founder that there was a much wider need to address. This dispensary has become a national adult and paediatric eye hospital in Bangladesh. 
However true international scaling began when Mervyn Davies, then Group Chief Executive of Standard Chartered Bank, witnessed a $50 cataract removal procedure in Dhaka in 2003 at the hospital. After observing a mother seeing her children for the first-time post cataract surgery, Standard Chartered resources were galvanised by Mervyn. The bank's staff globally became involved and $100 million was raised by 2018. Subsequent partnerships with the International Agency for the Prevention of Blindness (IAPB) and other leading international eye care organisations, have enabled Seeing is Believing to improve access to eye care in communities where help is most needed.
For Iraj's other voluntary activities, communities and working together in the long-term to achieve change feature strongly.  For example Shakespeare's Globe, an educational charity, which Iraj has been involved with since meeting its Founder Sam Wanamaker 25 years ago.  The Globe now has over a million visitors a year and Globe Education works with 150,000 students a year. As a trustee and Board Deputy Chair since the project got off the ground a quarter of a century ago, Iraj is a long-term champion of the soft-power of Shakespeare's global citizenship, and his credibility and ability to influence.  But alongside Iraj's love of the worldwide community the Bard's work creates, the Globe evidences another of Iraj's mantras – that the best things are built over time. 
Echoing the long view of the family businessman, Iraj is keen to inspire the next generation to take considered risk, tilt at windmills but to make sure that they persist and follow through on their plans.  
My personal choice was to build on the charitable themes the family had pursued using my international network, partnerships and technology
His most recent project has this message to the next generation at its heart.  As a founder of the Cambridge Judge Responsible Wealth Ownership Programme, Iraj is looking to share his belief in sharing and getting the word out there.  Having successfully run the first 4 day programme in Cambridge in October 2018, Iraj is delighted with the positive response both from the family business community and the wider university faculty who are keen to be involved. 
"It is clear that the families that are the best prepared are the ones who want to learn from what others have done" he notes, and plans are already underway for a second programme aimed at those in family offices in operational roles.  "Peer to peer learning and sharing is key to spreading the message about the duties and obligations wealth owners have in today's unequal society" Iraj explains. 
With regard to the future, he is cautious but practical. He predicts one of our greatest challenges in emerging markets to be increased urbanisation and preparing children today for their part in the workforce of the future – in Bangladesh alone 11 million people each year are moving to the cities. In Africa the decline in agricultural jobs is also fuelling this move to the cities. This is something which UNICEF, where Iraj serves as an UNICEF Adviser in both the UK and Bangladesh, is addressing through its Generation Unlimited initiative by preparing young people to become productive citizens by connecting secondary-age education and training to employment and entrepreneurship. 
In the UK he hopes more individuals will be confident to talk openly about their efforts to address social challenges.  In the age of social media scrutiny, he believes it is more important than ever for action to be visible and hopes that increasing numbers of wealth holders and business owners will speak up about their contribution to society. "Business owners in the first instance create employment in their communities – this has to be recognised as a force for good. If you don't communicate the good you do, people will assume you don't do anything" he concludes.
Interview by Mary Rose Gunn, Chief executive, The Fore
About the author
Mary Rose Gunn is Chief Executive of The Fore and its umbrella organisation, The Bulldog Trust. Launch in March 2017, The Fore is a new venture-capital style grant fund for small charities and social enterprises with a mission to inject innovation and dynamism into the charity sector. As CEO of The Bulldog Trust, Mary Rose has also run Two Temple Place, the extraordinary historic mansion on the Embankment and headquarters of the trust since 2007.
Mary Rose designed and developed The Fore's innovative funding model and Engaging Experience network which enable small, early-stage charities to access exceptional expertise, pro bono support and funding. The Fore has made 75 grants and distributed over £2m funding in its first 2 years of operations.   Alongside these activities, in 2011 Mary Rose created the Winter Exhibition Programme at Two Temple Place. Now in its eighth year the programme's annual exhibitions, supported by partners including the Arts Council England, provide a showcase for museum and gallery collections based outside London and have welcomed over 280,000 people. 
Mary Rose has a degree in Modern History from Lincoln College, Oxford and previously worked in roles in media and politics.  She sits on the Board of Margaret Pyke Trust, is an alumni of Women of the Year, a Fellow of the Royal Society of Arts and in 2018 was named as one of NatWest WISE100 leading Women in Social Enterprise.