John Kingston OBE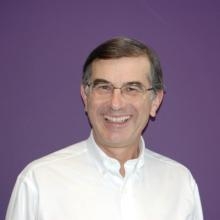 John says:
"It is difficult to pick out three books that have influenced my philanthropic journey because I must have read and skimmed hundreds of books and articles over the years. So, in the spirit of Desert Island Discs, I shall choose three to illustrate key personal drivers – which arguably I better understand now in retrospect than at the time.    
My first choice comes from G K Chesterton, author of the Father Brown stories, one of which The Queer Feet used the phrase "a twitch upon the thread" which immediately resonated. My thread begins in a Christian household, runs through VSO before university and two years in southern Africa thereafter. It twitched as ICFC – an investment bank targeting small and medium-sized businesses – evolved into 3i Group, and pulled as I left in 1990 to join Save the Children. The thread was strengthened as I combined my commitment to the sector with my financial skills and training to join CAF in 2001, to pilot and later launch Venturesome, providing risk capital and advice to charities.
Secondly, I have endeavoured to become a supportive leader of teams underpinned by a strong, shared sense of strategic direction. The Hersey-Blanchard model of Situational Leadership (summarised in The Decision Book: Fifty models for strategic thinking by Mikael Krogerus and Roman Tschappeler) emphasises the need to adapt your leadership style to the circumstances, which is instructive for the raw recruit through coaching and support to delegation to the capable team member. At Venturesome we often talked of the team as a jazz band, where there was individual room for manoeuvre and innovation but within a known and shared theme, rather than a concert orchestra where the notes are set out and leadership is necessarily hierarchical.
And thirdly, instead of a book, I choose an academic journal: the Journal of Development Economics. One particular article, that I read as I was leaving Save the Children and underpinned the Venturesome model, argued that changing society occurs at a number of different levels. For example, we can save individual children drowning in a river ('service delivery'), but should explore why children are in the river in the first place ('research and theory of change'). But there is a third level of 'policy and campaigning' work that aims to create cultural change in society such that no-one thinks of throwing children into rivers.
At Venturesome, we aimed to work at the three levels in parallel: to help individual charities, to test and build a risk capital model, and to help build a social investment market which allowed charities access to capital.  So I am glad that the organisation I founded has financed 250 charities, has proven the risk model, and has used all its learning to campaign for the concept and emerging practice of the social investment market in the UK, a market now endorsed by Government and to be championed by Big Society Capital alongside Venturesome and others.
For a final extra selection I'd pick something quite different – I choose Dogger by Shirley Hughes, a much loved story read to our children a long way back and now to our grandson!  It's people that matter, isn't it?"