Fiona Ellis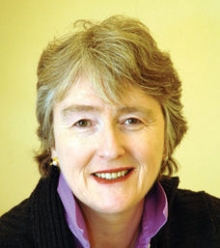 Fiona says,
Choosing just three 'influential books' is a bit like a Desert Island Discs challenge but much harder! I think of rules as useful guidelines to be broken if a greater good can be served so forgive me if I don't stick to the prescribed three books.
One of my predecessors in this column is Diana Leat, but that won't stop me recommending her work. If you are serious about effective grant-making, then anything written by Diana has to be on your reading list. Diana's books and her thinking have influenced me for years: she's a tough critical friend who challenges us to be the best we can be and firmly points out where we are not. She is sympathetic to our hand-wringing but doesn't let that excuse us. If we get lazy or complacent Diana's thoughts kick us into activity again. A good example is Just Change, her most recent book, with which I confess some involvement, but the work is purely Diana's.
I read Michael Edwards' book Just Another Emperor?: the myths and realities of philanthrocapitalism when it came out and breathed a great sigh of relief. In this quick-fix society, where there has been almost a worship of business-led solutions, it's good to see a gentle note of scepticism. Like Diana Leat, Edwards doesn't think 'traditional' philanthropy has it right but he has not fallen for the bullish, enthusiastic but often tactless notion that success in business inevitably spells success in fixing societal problems. His book is nuanced, intelligent and healthily sceptical. It is of course a fact that the most thoughtful and modest venture philanthropists (Impetus Trust's Stephen Dawson springs to mind) quickly learn that entrenched problems are not easily solved. Such people go on to be excellent allies, probably a bit embarrassed by the hype stirred up by 'business saves the world' advocates. It's hard to accept that chronic and terrible problems take a long time to mend – too long for those enduring them, as well as for those who genuinely want to bring about change.
But these are 'how to' books – before 'how', you need 'why'. Like most of the chief executives of foundations that I know, I am fuelled by injustice and by empathy for those on the receiving end of it. I find that a good pairing of fiction and non-fiction fires me up. An example is Blood River by Tim Butcher, a factual account of a journey along the Congo river in the path of the explorer Stanley but undertaken in the arguably even more dangerous 21st century; I couple this book with Barbara Kingsolver's fictional account of American missionaries in the same area, The Poisonwood Bible. Butcher's book describes the fragility of human structures and human capacity for kindness, with some extraordinary examples of 'positive deviance'. In his terrifying journey he occasionally trips over a railway sleeper or traces of a highway that crossed the country – all now gone. While rightly condemning the colonists who built them for their cruelty and greed, he shows how even the positive residue of those occupiers that might have been turned to use has now disappeared through a combination of more greed, a failure of integrity and a breakdown of empathy. As usual great fortunes are made by the few at catastrophic cost to the many. Barbara Kingsolver, in the best of her novels, tells us what that feels like to someone experiencing it.
My final selection is a book I struggled through many years ago. It's a hard read but the author kindly offers a guide to a quicker route through, which I unashamedly took. One day I'll go back and read every chapter. The book is John Rawls' Theory of Justice. Rawls tries to construct a method of creating a just society and in doing so shows how very difficult it is to do right by everyone while accepting that life throws up difference and contorts all systems. In Rawls' 'just society' there are still rich and poor, and there are still winners and losers, but there are fairer and better starting points and measures to contain abuse. If we could add Rawlsian justice to Kingsolver's compassion we might just be getting somewhere.