Transforming the world through film and philanthropy: How St Mary's University is Helping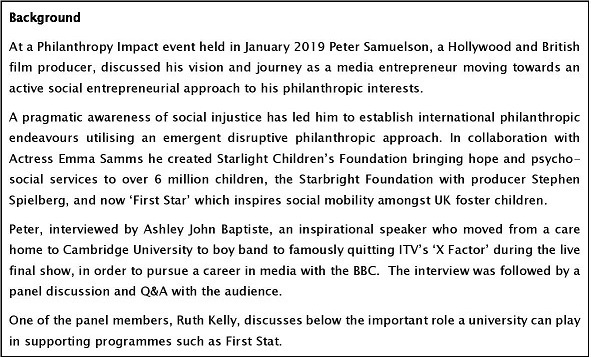 In my career, I have been fortunate enough to work at the highest levels of government.  And yet I have never felt as excited about the opportunities available to me to create real, lasting change as I do now, working in higher education.  From my vantage point as Pro Vice Chancellor at St Mary's University, I can see countless ways in which institutions such as mine can be a force for good.  This is doubly true when we team up with like-minded individuals and organisations from beyond our campus walls. 
When those partners have the attributes found in many philanthropists - generosity, of course, but also curiosity and a willingness to innovate and think outside the box – the sky is the limit.    
Allow me to explain.  By its very nature, a university, particularly one with a strong ethical purpose, can act as a kind of one-stop-shop for novel collaborations across many domains: education, health, science, social action, and much else besides.  At St Mary's, for instance, we have research centres devoted to the study of modern slavery and to the education of marginalized children and young adults. 
I work every day with academics who do not want to retreat to ivory towers, but want to engage creatively with the wider world, to exchange their knowledge and expertise, and to create a legacy that goes beyond their accumulated research papers and publications, however excellent.  Universities can therefore bring intellectual ballast to good causes. 
Moreover, universities also have a ready-made place in the public square, which means we can influence policy and opinion, so that successful interventions can then 'grow legs'.   And, on top of all of this, universities occupy considerable spaces in our towns and cities.  We have assets that can be sweated much, much more, and not just to improve our own finances.   
St Mary's First Star Academy gives us a glimpse of what is possible when a university collaborates with external partners on a truly novel effort to address an intractable social problem. The outcomes of children and young people living in care is a cause that has been close to my heart for many years.  I will mention just one of these outcomes here: only 6% of care leavers in the United Kingdom attend university, compared with nearly 50% of the population. Imagine, for a moment, the scale of wasted talent this statistic represents.
At St Mary's, we have resources to help tackle this problem head on. We have enormous expertise in education: St Mary's has long been and will remain a national leader in teacher training.  Thanks to the outcomes of the original First Star programme in the United States, we have our hands on compelling evidence of what can be done to improve outcomes, with 90% of the graduates from US Academies moving on to higher and further education. And at our campus in Twickenham we have a site that can be used to give young people in care the support they need as budding scholars, as well as a real-life taste of what being a university student means. We realized we could not walk past this problem. Our good fortune imposed on us a moral duty to act. 
For the last eighteen months, we have been supporting a cohort of thirty young people from the care system. This will last for four years in all, right though their GCSEs and A-levels, with an end goal of successful entry to higher or further education.The young people spend four weeks every summer living and learning at St Mary's.  When the academic year is back up and running, they return for a study day at the university every month.  So far not a single young person has dropped out of the programme.
But none of this would have been possible without collaboration and philanthropy.  The first cohort has been fully funded by individual donors and foundations, with St Mary's contributing substantially in kind.  The founders of First Star in the US have been generous with their time and expertise in helping us design our programme.  We have also worked closely with those caring for the young people: social workers, teachers and of course, foster carers.  This collaborative working has been essential to ensuring we are making a difference for each and every young person.
We hope that other universities will follow in our footsteps; that more funders will want to get behind the programme; and that government will want to adopt it. The end result will be young people enjoying chances in life that the current system simply cannot offer them.
First Star tells me that we are still just scratching the surface of what we and other universities can achieve through collaboration for philanthropic ends.