TRANSFORMATIVE FUNDRAISING Bridging the gap between the fundraising and professional advice communities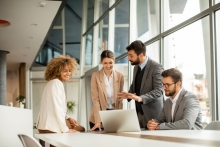 Bridging the gap between the fundraising and professional advisory communities can add significant additional value to your fundraising efforts. Our highly interactive training session is designed to give you the knowledge and skills to strengthen your relationships with professional advisors, such as wealth managers, IFAs, tax advisors and lawyers. In turn, this will help support their clients on the donor journey.
This training will open the door to new commercial opportunities, improve your fundraising results, learn how working with professional advisors can transform fundraising by changing the traditional view of donors and how you can collaborate to support them, find out what philanthropists are looking for when working with advisors, enhance your communications by understanding the language of business cases and receive exclusive insights from guest speakers about current industry dynamics and best practice.
This is coupled with receiving 3 self-certified CPD points and a free copy of the Philanthropy Impact online handbook–your go-to resource for delivering an effective philanthropy advice service.
So sign up today and join us on our CPD accredited training and develop the skills that matter most.