The Philanthropy Programme: Is Philanthropy Out of Step with the Times? Exploring Tax, Equality and Transparency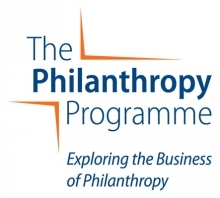 "What would the daughters of the rich do with themselves
if the poor ceased to exist?"
- Angela Carter, Saints and Strangers
Anand Giridharadas' new book Winner Takes All: The Elite Charade of Changing the World is highly critical of modern-day philanthropy and, at this year's World Economic Forum held in Davos, Switzerland, when historian Ruter Bregman then called on those present to "stop talking about philanthropy and start talking about tax", the video went viral.
In the past 10 years, the financial crisis increased social inequality, alongside which public attitude to wealth is becoming more hostile with attention around how wealthy people give back or invest in social causes having intensified. At the same time, giving by ultrahigh- net-worth individuals (UHNWI) over this period has stagnated.
Among the UK's millionaire population, the median annual amount given is just £240-£500. In the third event of the 2019 Philanthropy Programme series, an expert panel will discuss the public perception of philanthropic giving
by the wealthy. Is it appropriate to incentivise philanthropy with tax breaks, or does this give an unfair advantage to those on higher incomes? Should the wealthy get to decide which causes are 'worthy'. Is philanthropy the right way to address inequality?
Events often focus on the positive aspects of philanthropy. However, to promote philanthropy and encourage more wealthy families to give, it is helpful to understand the challenges and criticisms that are levelled at the field.
We invite you to a lively discussion to explore what some of these are and consider how they might be addressed - whether you believe them to be valid issues or simply misconceptions.
Chair   Jake Hayman, CEO, Ten Years' Time
Panel   Natasha Müller, Philanthropist and Impact Investor
            Simon Weil, Partner, BDB Pitmans LLP
              Gavin Oldham, Chair and Founder, The Share Foundation