CHANGING TIMES: Meet the Client Demand For Philanthropy and Social Investment Advice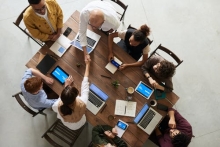 The shifting values of next generation investors are driving a greater need for a new kind of wealth management. They want more and better philanthropy advice and guidance from their advisors – but the professional advice community receives low ratings for this aspect of their service (average 5.9 out of 10). This training course focuses on what a 10 out of 10 rating should look like and prepares you to deliver this new and important part of your service.
In this training you will learn to bring greater depth to your relationships by displaying your commitment to support clients on the causes they care about, understand how philanthropy can be incorporated into your advisory practice and acquire the knowledge, skills, and tools to leverage best practice and become a pioneer in this emerging field.
This is coupled with receiving 3 CPD points and a free copy of the Philanthropy Impact online handbook–your go-to resource for delivering an effective philanthropy advice service.
So sign up today and join us on our CPD accredited and CISI endorsed training and develop the skills that matter most.