CHANGING TIMES: Meet the client demand for philanthropy and investment advice with Guernsey Taster Session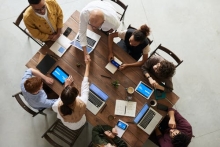 A Conversation About Trends Towards Values Based Conversations with (U)HNW Private Clients Providing a Commercial Opportunity for Private Client Professional Advisors and Their Firms - taster session
Philanthropy Impact is a leading centre of excellence and knowledge hub, uniquely positioned at the point of intersection of sustainable philanthropic giving and ESG/impact investment, covering the spectrum of capital that includes contributing to social and environmental solutions through impact investing and philanthropy, sustainable investment which is directed to benefiting stakeholders generating a positive outcome for people and the planet and to avoiding harm.
Join our CEO John Pepin for a conversation about the shifting values of clients and what this means for the professional advisor private client industry including private client advisors, wealth management, private banking, financial advisors, tax and legal sectors.  There is a rapidly increasing demand for a new kind of wealth management, driven in main by (U)HNW Millennials, Women of Wealth and GEN Z values. They want their professional advisors to help them live their values and motivations, and achieve their ambitions and goals choosing the most impactful approach to their investments and philanthropic giving.  In addition to discussing ways to provide philanthropy advice and guidance, the conversation will address the implications about FCA Consumer Duty requirements taking into account client sustainability preferences.
During this interactive session you will hear about the trend towards ESG/impact investment is placing suitability issues at the heart of professional advisor/client conversations and discover how to talk to your clients about their values, motivations, ambitions and goals - capturing across the spectrum of  capital their ESG/impact investing preferences and desire for support in their philanthropic efforts. 
Attendees to this session will be given an introductory 25% discount on the cost of the full training courses offered by Philanthropy Impact and Corporate Premium Membership (£1,650 per annum)
So sign up today and join us on our CPD accredited and CISI endorsed, interactive training in the future, to develop the skills that matter most.
Training Course 1 - Philanthropy and Social Investment Advice - two 3 hour modules - £700 - 6 Certified CPD points
Changing Times: Meet the Client Demand For Philanthropy and Social Investment Advice 
Training Course 2 - Values based conversations, preparing for MiFiD II and new FCA Consumer Duty Rules - two 3 hour modules- £700 - 6 Certified CPD points
Maximising ESG/impact investment client satisfaction - addressing suitability issues and FCA Consumer Duty Regulations