INCREASING THE FLOW OF CAPITAL FOR GOOD - INVESTING AND GIVING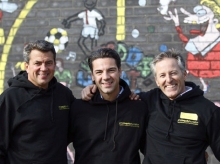 Charlie Green, pictured far left, a founder and director of the
Private Equity Foundation
, shares his experience of giving
"I first got seriously into philanthropy back in 2006 when a group of friends from within the Private Equity world mooted the idea of forming an industry foundation.
We had been approached by a major national charity to see if we would organise a fundraising dinner for them but instead, felt that the private equity community could give as much by offering its expertise, as well as by donating money. We felt we'd achieve far more collectively than any of us could as individuals and we wanted a far more meaningful personal relationship with the sector than simply signing cheques and hearing no more.
The opportunity was there. We all knew from our previous dealings with charities that although many organisations have hugely inspiring leadership and great interventions, they are often small-scale and under-capitalised. The best way for us to contribute would be to use both our money and business skills to enable small to medium-sized charities with best-in-class programmes to scale up and grow their operations on a sustainable basis.
There was no value we could add to the charities' work on the ground – their compassion or their understanding of their mission – but we could support them to become bigger and better at what they were already doing and deliver far more impact.
It didn't take us long to realise that we would need a chief executive and Shaks Ghosh, previously chief executive of homeless charity Crisis for 10 years, was appointed. Her raison d'etre is social change so she encouraged us to take the venture philanthropy model a step further: to identify a specific mission and to aim to move the needle on that issue to make a real difference.
Our answer was to concentrate on empowering young people to reach their full potential. Within this, NEETs (young people not in education, employment or training) hit a chord. We were very aware that many young people in this country have been left behind by the global economy and are faced with a severe poverty of opportunity. In private equity, we work in a meritocratic environment and we found it inequitable on every level that many young people were unable to realise their full potential because of their particular circumstances.
There's no question that the NEET issue is a complex problem, without a silver bullet, so building up a portfolio of the best charities in the space, across a broad range of interventions, such as literacy and numeracy, mental health, family support and wider skills training, and spanning 4 to 24 year olds, seemed to make sense.
That was five years ago and I've been on a huge and enormously rewarding learning curve ever since. We've been fortunate to be involved every step of the way, from searching and evaluating high potential charities, to building relationships with charity management teams and then monitoring and supporting the growth of our portfolio charities.
I've been incredibly privileged and proud for instance to have worked closely with Fairbridge, helping the organisation with specific initiatives such as improving its measurement of outcomes and driving more value from its outstanding database. I also found myself unable to resist the invitation of its CEO to run the New York marathon with him in 2008, personally raising c.£40k for the charity and then, best of all, sponsoring one of Fairbridge's young people to run in the same race the following year.
In fact, the relationship between the Private Equity Foundation (PEF) and Fairbridge offers a great illustration of the power of PEF's model. A number of individuals from different private equity, law, consultancy and accounting firms formed a team and provided a huge amount of professional advice and support on a pro bono basis to Fairbridge on its recent merger and integration with the Prince's Trust. It not only made the deal much easier (and, perhaps, possible) for the two management teams to consummate, it gave them much more confidence that it was the right deal to do.
Given the combination of some great financial and analytical minds amongst the trustees on one hand and Shaks' and her fabulous team's experience and knowledge of charities, education and social issues on the other
– a veritable double helix of DNA within the organisation – we have also used our financial skills and experience to develop and promote social impact investment structures for our portfolio charities. Our work in this area has seen PEF recently being awarded the first investment from Big Society Capital. I have found myself speaking at the Sunday Times Festival of Education (which my former teachers would find surprising, if not ironic), a regular visitor to roundtable discussions at the Cabinet Office and even to 10 Downing Street, where we try to promote the vision and explain the practicalities of creating a new social investment market.
So my advice to others in the City who might think that their world is too far apart from the charity sector, is to take what is a surprisingly small step to cross the divide. My experience is that there is a huge amount both sides can learn from the other, some great friendships to be made, as well as being one of the most personally rewarding and enriching experiences you could want.  You'll be as surprised by what you can give as well as what you take away."
Charlie Green is a founder and director of the Private Equity Foundation and leads its work on social investing. He is currently a non-executive director of several small businesses for whom he has raised new growth capital. He was previously a partner of Candover, a private equity firm, and prior to that a director of Morgan Grenfell and Deutsche Bank.