PART TWO OF A TWO PART SERIES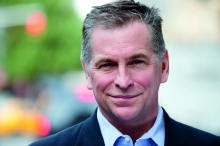 The Arcus Foundation is a proud sponsor of this month's issue focused on social investment, social investment and impact. For funders like Arcus who centre their philanthropy on emerging and urgent issues, the question of how we invest our resources most effectively weighs heavily on our minds. Arcus is the largest private funder of ape conservation as well as one of the world's largest funders of LGBT issues. The need for support is incredibly high on both fronts, yet we operate on a fixed amount of resources. That frequently means we must be strategic and creative with how we maximize our philanthropy and impact.
Arcus believes that effective and successful grantmaking is only as good as who and what it is informed by. I am proud of Arcus' brilliant and sharp team who I have the privilege to work with on a daily basis. But my colleagues and I readily admit that it's unrealistic for us to know or anticipate everything that impacts those we support. While Arcus' programme staff spends many hours out in the field, we also make it an evergreen priority to bring together leaders who generously share their insights keeping us informed about opportunities and challenges in the field; also helping us to upgrade or develop new strategies and solutions.
Our Great Apes team frequently turns to the use of Think Groups, a small and curated panel of subject matter experts who grapple with how to best leverage in response to issues like the expansion of oil palm plantations and how to shift cultural narratives around conservation. We employ Think Groups to address issues facing LGBT rights around the world. This past October, Arcus convened a group of U.S. communications experts to refine how the Foundation may support increased understanding of transgender lives, particularly as so many regularly encounter violence and discrimination from society.
Arcus actively endeavours to create optimal environments for our grantee partners to be positioned for success. The Foundation explores and pursues high-impact opportunities that allow the movements we support to possess as much intelligence as possible and are equipped with a suite of tools to advance their respective goals. Take My2024, an integrated and crowd-sourced initiative supported by Arcus to identify future priorities for the LGBT movement in the United States after the historic Supreme Court ruling on same-sex marriage. By using game mechanics, this forecasting project sought to invite everyday LGBT people across the country to voice their ideas and concerns for the next decade.
More than 75 local, state and national LGBT organisations took part in the futures-mapping project. As a result, My2024 produced thousands of unique insights ranging from the call to advance immigration reform to the growing needs found among ageing LGBT adults. The data gathered from the nationwide effort continue to inform and shape how Arcus and our grantee partners plan for the next wave of LGBT advocacy in the United States. The longevity of the movements that Arcus support is of imperative importance. While we remain a leading funder for many in the field, we seek to grow and diversify other forms of support for grantee partners to access. That's why the Foundation commits resources to encourage others to join us in funding this work.
In 2014, Arcus founded Great Apes Giving Day, a 24-hour online giving campaign created to support sanctuaries and rescue centres that provide long-term care for apes unable to live in their natural habitats due to poaching, land encroachment, medical and science research, and their use in entertainment. The annual event connects these dedicated and underfunded facilities with new donors who want to support their work.
This year, I'm pleased to share that Great Apes Giving Day raised nearly $400,000 – exceeding our original goal by almost $100,000 – benefitting more than 30 organisations around the world. The real excitement lies in the fact that many of these facilities will now be able to cultivate long-term relationships with the more than 3,200 donors. Because of their participation, these sanctuaries and rescue centres have access to a larger and sustainable funding stream. This means foundations like Arcus have more philanthropic peers to support our partners on the ground.
Too often, philanthropy is treated like a transactional ritual, which makes impact more difficult to articulate and measure. It's important to work alongside grantee partners to achieve impact. If our field wants a higher return-on-investment, we can – and must – go well beyond writing a check in order to achieve impact.