INCREASING THE FLOW OF CAPITAL FOR GOOD - INVESTING AND GIVING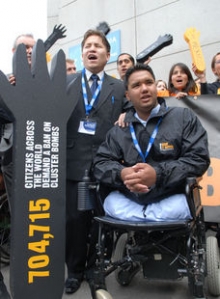 Change-making philanthropy, which focuses on promoting social justice and bringing reform, has a distinctly political edge. It may not be a new concept, but it does seem to be in fashion. The climate for change is increasingly tangible, encouraged by calls from government, business, the media and the public.
Philanthropy in its many guises is helping bring about change by braving treacherous and difficult political waters. A prime example is the work the Community Foundation for Northern Ireland (CFNI) has done in helping bring the voice of many different communities, religious and cultural, to the drafting of the Northern Ireland's Bill of Rights, through the funding of human rights education for ordinary people and by encouraging debate between them.
Avila Kilmurray, CFNI director, says, "Politics and philanthropy are not usually found in the same sentence, and yet, arguably, both address the art of the possible, and there is more than a whiff of power underlying both. However politics, also known as the management of the state, is increasingly marked by short-termism, whilst philanthropy – when it is more than about the management of need – tends to be longer term in perspective. What philanthropy and politics can share in common is the struggle for people's imagination."
Philanthropy in a political setting has proved itself an agent for change. Wealth translated into funding for research and analysis, debate, advocacy, and campaigning can impact significantly on public life. For example, the campaign to abolish the slave trade has been identified as one of the greatest achievements of historic philanthropy in the UK.
More recently, the legislation that banned smoking in public spaces and fox-hunting, and the social policy reforms that strengthened rights for women, children and disabled people, have all, to some extent, been the result of private donors involving themselves in public policy.
While change-making philanthropy is often political, being concerned with power, not all political philanthropy is  change-making.
And there are many different forms. 'Catalytic philanthropy' is an individual approach that sees the donor at the centre of bringing about measurable change by using any appropriate means, according to Mark Kramer, co-founder of FSG Social Impact Advisors.
This new type of 'hands-on' philanthropy, he believes, could solve the "most pressing problems" in society. He uses the example of Thomas Siebel, founder of software company Siebel Systems, who achieved a drastic cut in teenagers' use of methamphetamine by funding a long and expansive advertising campaign.
Dr Toby Ord could perhaps also be described as a 'catalytic philanthropist', taking direct action in his aim to change attitudes towards giving. The £30k-a-year Oxford University academic has pledged to donate £1m, two thirds of his expected future earnings, to effective overseas charities involved in tackling poverty, asking others to do the same as part of a new 'society' called Giving What We Can.
Individual mega-donors such as George Soros and Bill Gates are also putting their heads above the political parapet to achieve their aims. There is a feeling that even billion dollar donations are not always enough on their own to fund the size of the change they want to bring about.
Matthew Bishop observes in a recent New York Times article. "If they want to achieve change, they have to start exercising disproportionate influence in politics," he says, though that's not to say that modest budgets can't achieve great change.
The Gates Foundation has focused its US grant-making programme on education and in a speech this year at the National Conference of State Legislatures in Philadelphia, Gates entered political territory when he made a direct plea to lawmakers, urging them to improve education with data and financial incentives.
He called on them to use $100bn in federal stimulus money to change the way schools are run, and also criticised a law passed in 2008 in New York that bars student test scores from being considered in teacher tenure decisions.
Soros is openly political, referring to himself as a 'political philanthropist' committed to establishing total social reform through a new 'open society' as well as involving himself in issues such as climate change. He more recently announced a $1bn investment of his own money in clean energy and $100m (£63m) grant to form an environmental advisory group to aid policymakers.
"The problem of global warming is a political one at this point," Soros told Bloomberg News in a recent interview. Charitable foundations and trusts have more reason perhaps to shy away from political campaigning; unlike individuals they are regulated by bodies such as the Charity Commission in England and Wales, and have to be careful about how politically active they can be.
However, the rules are clearly set out in the Charity Commission's CC9 – Speaking Out rule book, and in the Association of Charitable Foundation's guide How charitable trusts can support campaigning activity, while in Scotland the Office of the Scottish Charity Regulator (OSCR) provides guidance and Northern Ireland has its own commission.
Caroline Cooke, the Charity Commission's head of policy engagement and foresight says, "Historically there has been some nervousness about funding charities' campaigning work. We would offer reassurance that there is much scope for funding charities' campaigning activities as long as they are acting within the legal and regulatory framework; funding campaigning is an effective way that trusts and foundations can support charities in their work."
In November 2008 the City Parochial Foundation and the Baring Foundation addressed the issue, convening 'The philanthropy of changing minds' event for independent funders to consider the issues and challenges of funding campaigning and policy work.
Bharat Mehta, chief executive at the City Parochial Foundation, said the starting point for the event was "a belief that the issues facing society cannot be solved by charitable foundations funding service delivery alone. Whether our aim is to promote education, tackle climate change, improve housing, reduce inequalities or tackle poverty we need far greater resources than the estimated annual £2bn or so that UK foundations collectively distribute. This requires influencing the public, civil society, business and government. As such, campaigning and policy work is an important part of our power to achieve change."
He adds, "I believe independent grant-makers have a duty and a responsibility to fund advocacy, campaigning and policy work to ensure that the poorest, most disadvantaged and vulnerable are not disproportionately affected in these tough economic times and the looming public sector cuts. Some foundations and trusts believe that funding such work is not permitted. The Charity Commission's guidance on the matter is unequivocal: they can. The question is one of willingness to do so."
Foundations are well-placed to take part says Lenka Setkova, reflecting on her experience working in the field of philanthropy, "Foundations have the time-horizon and independence that are critical to affecting long-term systemic change in the interest of social justice. They are well-placed to support activities such as: advocacy for changes in policy and practice; local, national or global alliances tackling issues such as debt relief, poverty, or environmental justice; and they are also well-placed to support less 'popular' or more contentious causes.
"Foundations are critical to supporting activities that provide platforms for and strengthen the voices of people that have less power or influence in the media or in decision-making processes and can also use their convening power to bring together diverse stakeholders in order to influence thinking and action," adds Setkova.
There are hundreds of examples of charitable foundations and trusts funding such work; the Polden-Puckham Charitable Foundation (PPCF) is but one. In 2008 it spent £476,000 on grants supporting projects that seek to influence values and attitudes, promote equity and social justice, and develop radical alternatives to current economic and social structures.
While the Rowntree name is synonymous with tackling root causes to establish a 'fairer, peaceful and more democratic society'. The Joseph Rowntree Charitable Trust which places itself deliberately at the cutting edge of difficult and contentious issues to create a 'dialogue across difference' has been highly active in supporting social change – for example its long support for the work that led eventually to the UK's Freedom of Information legislation.
'New philanthropy' is also joining the fray. Matthew Bishop and Michael Green's concept of 'Philanthrocapitalism' describes harnessing the power of business and the market in pursuit of social change. These types of donors and the organisations they fund can work outside of government but also in partnerships with it. Indeed, governments are highly focussed on how the third sector and social enterprise can be centrally involved in powering a social revolution.
An insight into the power of social entrepreneurs led Bill Drayton to found Ashoka in 1980 and continues to guide the global association of the world's leading social entrepreneurs in their efforts to lead a profound transformation in society, "Rather than leaving societal needs for the government or business sectors to address, social entrepreneurs are creating innovative solutions, delivering extraordinary results, and improving the lives of millions of people," it says.
Barriers to 'political philanthropy'
However there are barriers to funding systemic change. It calls for doggedness, perseverance, a thick-skin and often a lot of money. It attracts criticism, unwelcome headlines, suspicion and enemies – Soros reportedly counts Vladimir Putin among his.
Setkova says, "Philanthropy that seeks to affect long-term systemic change in the interest of social justice requires
persistence, the ability to understand how power can be harnessed and influenced, and the courage to withstand controversy. Not all foundations have the ability or desire to undertake such activity. Other barriers include anxiety regarding  legitimacy, or a sense that the causes of social injustice are too complex or deeply entrenched for foundations to tackle."
It also raises public concern about plutocracy or 'ruling by the rich'.
Geoff Mulgan, CBE, director of the Young Foundation and former advisor on social policy to Tony Blair, writes in a review of Michael Edwards' book, Just Another Emperor?, which rebuts many of the claims made in the book 'Philanthrocapitalism', "The great potential vice of philanthrocapitalism is that it brings concentrated power and assumes that the provider knows best what's good for people – i.e. the very opposite of Adam Smith's market principles, let alone his moral ones."
There is also concern that the general public sees this kind of activity as 'overstepping' the established boundary between the private and public sector.
Eva Neitzart, of nef, a 'think-and-do' tank that combines rigorous analysis and policy debate with practical solutions on the ground, is clear about defining these roles, "We must be mindful of the danger of a system in which philanthropy exists in place of state provision of everyday services to meet everyday needs. We need to get the taxation levels right so that wealth is redistributed by democratically elected bodies to provide basic needs, and leave philanthropy to providing the 'nice to haves".
She adds that failure to do so can place philanthropists, whether they wish it or not, "in a difficult position that politicises their contribution."
SROI – Social 'reform' on investment?
So how effective is 'political philanthropy'? Can campaigning in political circles achieve a different SROI - social 'reform' on investment? According to respondents to the US Foundation Center and Independent Sector's 2005 report 'Social Justice Grant-making: A Report on Foundation Trends', effectiveness is being hampered by a number of factors.
"Divergent grant-maker objectives and strategies, shortterm focus in funding, a lack of measures of effectiveness and exclusivity among social justice funders were among the barriers cited as impeding the efficacy of social justice philanthropy," says the report.
Nevertheless 'political philanthropy' has achieved considerable change over the years, but there is a feeling it can, and must, do more.
The latest and fourth edition of the Where The Green Grants Went series, published by the Environmental Funders Network (EFN), finds that UK philanthropy is failing to make a significant contribution to combating climate change – and that trusts and foundations are not eager to fund it.
The report shows that the UK's largest trusts and foundations directed less than 3% of their grants to the environment as a whole, and less than 0.3% directly towards reducing carbon emissions. Even philanthropists with existing environmental portfolios awarded less than 10% of their grants to climate change in 2005/6 and only 8% in 2006/7.
Jon Cracknell, EFN co-ordinator, says, "Giants of philanthropy like Andrew Carnegie and Joseph Rowntree set their own agenda to respond to the great issues of their time. Climate change is the great issue of our time – an enormous threat to wildlife, landscapes and humanity. They showed how philanthropy can support innovation and catalyse change. It is this heroic spirit that is urgently needed given the scale and immediacy of the challenge we face."
But there needs to be realism over what philanthropy can achieve. Karl Wilding, head of policy and research at NCVO, says, "There is a disproportionate expectation of philanthropists – if you compare how much is given each year and the size of government spend, donations represent a tiny amount.
"But what they fund and how they fund is important in achieving social change and improving lives. We must be realistic about what philanthropists can do. However, just because philanthropy can command far fewer resources doesn't mean it's not capable of achieving great things – it just puts more onus on thinking about what is its unique role.
"We need to look at how they can complement rather than mimic what government does."
Conclusion
Change-making philanthropy that actively engages with politics to influence policy and legislation is poorly funded and unpopular for many reasons. It is expensive, complex, can take a long time to show results and is out of kilter with the short-term horizon of many funding programmes.
The ability to use 'charitable' money to fund political activity is regulated by bodies such as the Charity Commission in England and Wales and a fear of falling foul of these rules hampers participation. Also concern over attracting accusations of plutocracy or creating controversy can act as a deterrent for some donors.
Some of the most notable contemporary philanthropists are being attracted to 'political philanthropy' because they recognise it offers a more sustainable path to systemic change and can deliver more punch than money alone.
Some are calling for more charitable foundations and trusts to become more involved in funding answers and to challenge the status quo.
A distinction often made between 'philanthropy' and 'charitable giving', which both have very important roles to play, is that the latter is viewed as ameliorative – offering 'sticking plaster' solutions - and the former aims to be preventative and strike at the roots of social problems.
As more examples emerge of donors successfully tackling intractable and systemic problems through political engagement, it is likely that more philanthropists will venture into 'change-making' in the hope of funding the answers to some of the most pressing social and environmental questions of our times and while furthering their respective personal aims.
Case Study 1
The drafting of a Bill of Rights in Northern Ireland, Community Foundation for Northern Ireland
By Avila Kilmurray, director of the Community Foundation for Northern Ireland
The Community Foundation for Northern Ireland, working as it does in a highly politicised society, is no stranger to the often brittle interface between philanthropy and politics. Over its 30 years of experience the foundation has experienced the downsides of this situation, but has also identified opportunities. One such opening emerged in the context of the 'Belfast/Good Friday Agreement' in 1998, which contained a commitment to developing a Bill of Rights for Northern Ireland. The foundation was already grant-making from a social justice fund, established with the support of the Baring Foundation. As a development of this a Bill of Rights programme was designed which garnered financial backing from Atlantic Philanthropies.
The aim was to ensure that community-based voices were heard in the drafting of the Bill. A small grants programme was put in place to fund seminars, discussion and the development of submissions to the Northern Ireland Human Rights Commission. Alongside this, a mentored programme of training and support was undertaken with 75 very diverse groups to raise awareness about human rights. For some, the demystifying of human rights 'jargon' was important. For others, the acquisition of new understanding and the use of rights-based tools increased their capacity to effect change in their communities.
Grant recipients ranged from ECONI (Evangelical Churches of Northern Ireland) to people living with HIV, represented by the Rainbow Project; and from Omagh Ethnic Communities Support Group to the Dream Team (adults with learning disabilities) in Newry. The Community Foundation organised conferences to augment the exchange of learning between the programme participants, as well as introducing them to international experts on human rights.
The drafting of a Bill of Rights in Northern Ireland is a highly political issue – what the Community Foundation did was to extend the circle of discussion into local communities. It also sought to break the substantive issue of rights out of the straight jacket of party political positioning. Is this a place where politics and philanthropy meet? Well yes, I would argue it is if we are to stay true to our mission of promoting social justice and expanding opportunities for imagination to be translated into policy influence.
In 2004 Avila Kilmurray was awarded the first Raymond Georis Prize for Innovative Philanthropy for her work as director of The Community Foundation for Northern Ireland
Making Rights Work for Communities: Case Studies from the Community Foundation for Northern Ireland's Bill of Rights Programme on www.communityfoundationni.org.
Case Study 2
The Big Ask, Friends of the Earth
The UK's Climate Change Bill became law in November 2008. The Climate Change Act commits the UK government to reduce emissions in line with five-year carbon budgets. It is the first of its kind in the world.
The Act was a victory for Friends of the Earth and its The Big Ask campaign, proof of how public mobilisation and persistence can make change happen. The campaign has subsequently been taken up by Friends of the Earth offices across Europe.
When the campaign was launched in 2005, UK climate policy was in poor shape, with the government set to miss its own modest goals for cutting carbon emissions. The Big Ask called for a proper legal framework, capable of delivering an 80% emissions cut by 2050. Over the next three years, nearly 200,000 people contacted their MP, by email, letter and in person.
The government responded with a draft Climate Bill, described by then-prime minister Tony Blair as a 'revolutionary step'. Hundreds of MPs voted to strengthen the Bill as it went through parliament; and The Big Ask was finally answered when government accepted the 80% target.
Besides mobilising its own supporters, Friends of the Earth worked with other groups through the Stop Climate Chaos coalition. Its policy experts liaised with MPs and commissioned academic research. Celebrity endorsements and an 'online climate march' kept the campaign in the public eye, as the draft Bill became the subject of tens of opinion columns, both for and against.
Behind the headlines, The Big Ask was a tightly managed campaign calling for considerable resources. Friends of the Earth made staff time and expertise available, while donors had to hold their nerve – this was never a campaign to be won overnight but one that advanced on multiple fronts.
The campaign cost around £3.6m over three years, much of it contributed by trusts and individual major donors, including members of the Environmental Funders Network. 'These grants helped us deliver a much more hard-hitting and sustained campaign than we would otherwise have been able to' says Charlotte Leyburn, Friends of the Earth development manager. 
Campaign with care as UK General Election looms
The Charity Commission's Caroline Cooke explains the important rule of safe campaigning during election time.
With a UK General Election on the horizon, it's vital that charities involved in political activity, and those who fund them, prepare by familiarising themselves with the relevant regulations and laws that govern public campaigning in the lead up to an election.
The Charity Commission's guidance CC9 Speaking Out – Guidance on Campaigning and Political Activity by Charities, deals with general campaigning and political activity for England and Wales. It was redrafted in March 2008, after consultation and support from several bodies including The Association of Charitable Foundations (ACF). It sets the fundamental principle that political activity must not be the 'continuing and sole activity' of a charity.
As a matter of charity law, a charity can only carry out political activity if it is in support of its charitable objects 'as a positive way of furthering or supporting their purposes'.
Caroline Cooke, the Charity Commission's head of policy engagement and foresight, explains, "Though it may be that a charity puts all its eggs in one basket for a certain period of time, that activity must not become its sole activity. This can be difficult for small charities, which may have to divert all their funding to a very particular activity for a while. But as long as it does not do so year after year, and as long as the charity can show that the activity underpins their broader charitable aims, it would not contravene the guidelines."
Cooke offers the example of the activity carried out by charities in bringing about the fox-hunting ban. "Activity was focused on bringing about the ban for some time and it did get very political, but it was done in support of a broader charitable aim; to stop cruelty to animals.
"The guidelines give a very clear picture of what is acceptable activity while allowing plenty of freedom. Much can be done to change the world without contravening the framework," she says.
Once an election has been called, charities that are campaigning will need to take special care to ensure their 'political neutrality'. For example, a charity must not provide funds, or other resources, to a political candidate.
A charity must never indicate to its supporters which candidate to support in an election. During an election period, the need for impartiality and balance is intensified, and charities must take particular care when undertaking any activities in the political arena. The Commission provides supplementary guidance called Charities and Elections which covers this in greater detail.
Cooke urges charities to assess the risks of their campaigning activity more closely and demonstrate clearly that thought has been given to what could go wrong.
"So for instance, if you have an MP opening one of your charity shops, you should check what he or she is going to say in their speech," Cooke explains.
She encourages organisations to continue with their campaigning work, "We would encourage charitable foundations and trusts to continue to speak out, particularly in the run-up to the election when the public are more sensitive to such messaging. This is a time of opportunity. We wouldn't want to stifle that activity but charities need to be confident they are operating within the legal and regulatory framework."
For more information visit the Charity Commission online guidance resource: