The Philanthropy Programme - Transparency and Risk in Philanthropy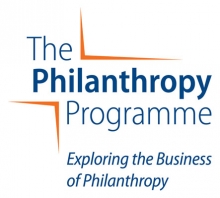 Please note that this event can only be booked through the Philanthropy Programme website. Please follow this link to register to this event.
Download the invitation flyer as a pdf.
Why attend
In the second event of the 2018 Philanthropy Programme series, an expert panel will discuss how to deal with clients' risk concerns surrounding their philanthropic endeavours.
This session will address issues relating to reporting obligations and transparency, and subsequent concerns as to the security risks of giving large monetary gifts; how to offer clarity and reassurance to clients, and how best to deal with the issues through smart giving channels and estate planning. The session is valuable for professional advisors and philanthropists alike. 
About the event
Giving has become a billion dollar industry and (U)HNW clients who are interested in philanthropy and giving are increasingly conscious of how transparency and risk affect their philanthropic endeavours, much as they would in their business transactions. The upshot of this is that advisors need to be aware of clients' potential concerns around giving, and ready to address these. The increased burden of reporting and disclosure might affect attitudes and ways in which giving is done. Indeed issues involving perceived risk in terms of the method of giving, the profile of the individual giving the gift, and matters of discretion, privacy and security, are all common matters which have to be handled.
At this event, a panel of expert speakers in the field will come together to discuss how the advisor can better support those clients interested in philanthropy, but whose concerns about how it will affect them or their lives hold them back. The panel's discussions will include the Common Reporting Standard (CRS), addressing how it impacts wealthy people and their attitudes to giving, alongside how advisors can best mitigate against any potential risks through adequate planning and preparation with their clients.
Implications of CRS on philanthropy

How to manage risk; what advisors need to think about when

Best serving the clients' needs; foreseeing their concerns

Working with high profile donors preparing to make substantial gifts that will put them in the public eye

Transparency and risk from a foundation and charity perspective
Chair: George King IV, Partner, MASECO Private Wealth  
Panel: Patrick Dunne, Chair of the Board, EY Foundation; Hugo Walford, Associate, Withers LLP; Tom Rudkin, Associate, Farrer & Co; other speaker TBA.