The Philanthropy Programme - Models of Giving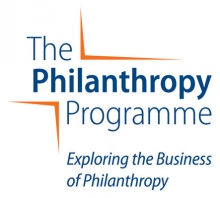 EVENT FOCUS
With clients looking to their advisors for guidance and advice on their philanthropic endeavours, it is becoming increasingly important for advisors to be well-versed on the different models of giving and how they would best match their clients' philanthropic needs. 
An awareness of different philanthropic vehicles and approaches to giving comes in both the form of the more traditional models, but also the new and the innovative. Knowing how and when best to use what model, and the associated benefits, is a key component of the advisor role to the private client.
At this event, an experienced panel will speak to and assess different models of giving, as to their validity and efficiency, as well as any notable changes to their functionality or legal/financial positioning.
WHY ATTEND
This event provides essential knowledge to the professional advisor on the available models of giving, serving to update them on models which might be applicable to their clients. This session is valuable for advisors looking to increase their knowledge of philanthropic opportunities and to prepare for philanthropic conversations with clients.
Traditional and innovative models of giving: to include donor-advised funds, giving through networks, transactional giving and social investment

Pertinent detail on the different philanthropic options available and the language to convey to clients

How to best serve a client; identifying their philanthropic needs and preferred approach, foreseeing and addressing their concerns, selecting the appropriate model of giving
Chair: Emma Beeston, Philanthropy Advisor, Emma Beeston Consultancy.
Panel: Myriam van der Elst, Vice President Europe; Epic Foundation; Anthony Donatelli, Director, Philanthropy Services UK, UBS; Nick Temple, Chief Executive, Social Investment Business; Jonathan Brinsden, Partner, Bircham Dyson Bell.